Location
Brunt Ice Shelf, Antarctica
Date
2005 - 2013
Client
British Antarctic Survey
HBA Team
Sarah Besly, Hugh Broughton, Grenville Herrald, Adam Knight, Max Martin, Gianluca Rendina, Phil Wells
Collaborators
AECOM (multi-disciplinary consultants)
Galliford Try International (main contractor)
Billings Design Associates
(cladding consultant)
Colour Effects (colour consultant)
Awards
American Architecture Prize 2016 - Gold Award
American Society of Civil Engineers Outstanding Civil Engineering
Achievement Award 2015
Chicago Athenaeum International Architecture Award
International Design Awards First Prize: Institutional
American Society of Civil Engineers Award of Merit 2015
Civic Trust Award 2014
Civic Trust Awards Special Award for Sustainability 2014
ENR Best Global Education/Research Project 2014
ENR Best Global Project 2014
Architizer A+ Award 2014 (Higher Education/Research)
Architizer A+ Art and Science Award 2014
ICE 'Designed in London' Award 2014
AIA UK Excellence in Design Winner 2013
RIBA International Award for Architecture 2013
BCI Awards International Project of the Year 2013
Structural Awards Award for Sustainability 2013
The British Safety Council International Safety Award 2011
Photography
James Morris
Ant Dubber
Sam Burrell
Halley is the most southerly science research station operated by the British Antarctic Survey (BAS) and is located on the 150-metre thick floating Brunt Ice Shelf, which moves 400 metres per annum towards the sea. Snow levels rise by 1 metre every year, and the sun does not rise for 105 days during winter. Temperatures drop to -56˚C and winds blow in excess of 160 kph. Access by ship and plane is limited to a 3-month summer window. A research station has been occupied continuously at Halley since 1957 and in 1985 scientists working there first observed the hole in the ozone layer. Halley V was completed in 1992. Its occupation became precarious, having flowed too far from the mainland to a position at risk of calving as an iceberg. As the station's legs were fixed in the ice it could not be moved and so in 2004, BAS and the RIBA, organised an international competition to select designers for a new station.

Concept sketch
Client's brief
The competition was won by Hugh Broughton Architects and AECOM with a modular design concept, developed to meet the client's key objectives:
- To be relatively easy to deliver to site, build, operate and ultimately decommission.
- To allow for the replacement of individual facilities without significant interference to the whole station.
- To minimise through-life environmental impact from construction to decommissioning with energy efficiency, reduced water usage and an improved waste management strategy.
- To create an ergonomic home from home to support 16 people in the 9-month austral winter and 52 in the 3-month austral summer within a building which is safe, comfortable and stimulating to live in.
- To provide flexibility to support a 5-yearly science programme in a building with a minimum life of 20 years.
- To be fully relocateable inland when there is risk of the site calving off as an iceberg.
- To minimise snow management and allow the station to climb above the annually rising snow levels.

Competition stage concept view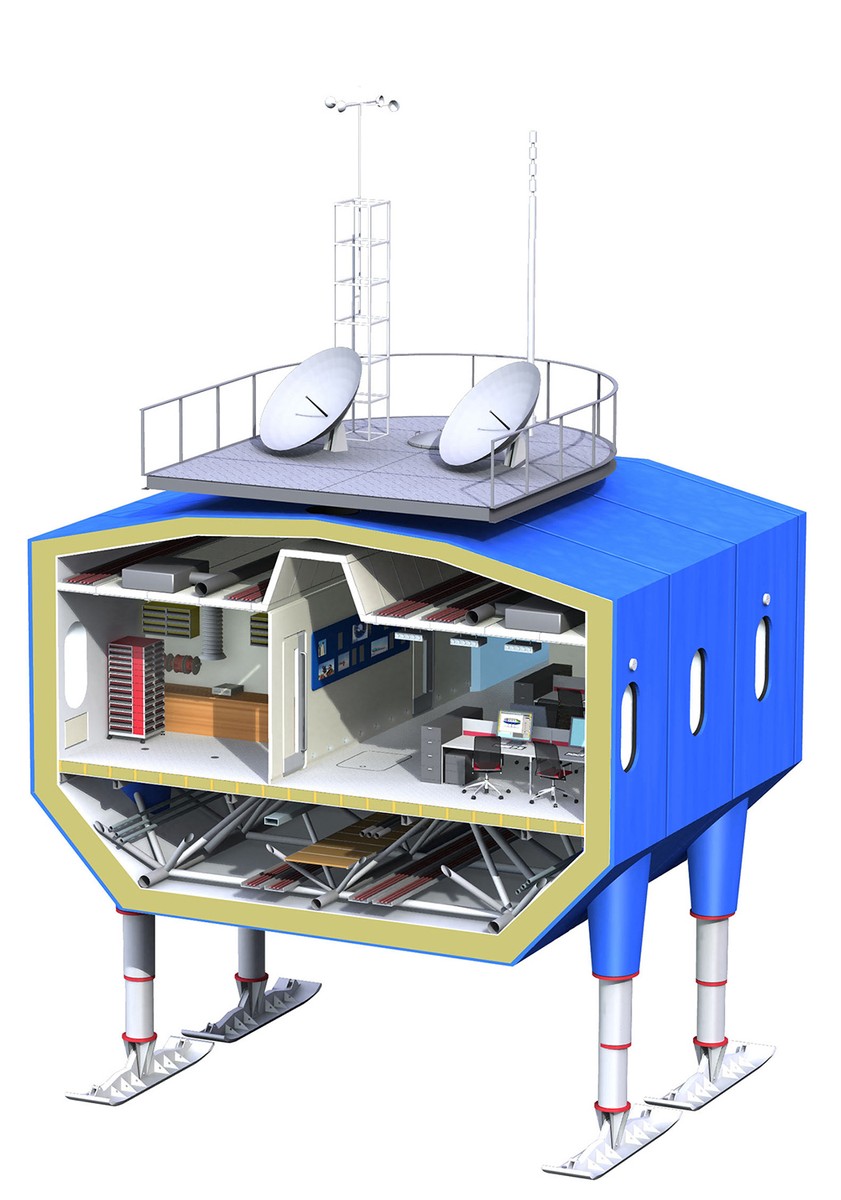 Cut-away section science module
Environmental and logistic constraints
In tandem with the extraordinary demands of the harshest climate on earth, the construction and operation of the new station has to meet the stringent requirements of the Environmental Protocols of the Antarctic Treaty.
Delivery also posed a significant challenge. As the ice shelf protrudes 20 meters above sea level, all materials have to be unloaded onto fragile sea ice with a maximum bearing capacity of only 9.5-metric tonnes.
They are then dragged on skis and sledges across this and up to the Brunt Ice Shelf on man-made snow ramps created in natural creeks at the cliff-like edge of the ice shelf.
Design, materials and methods of construction
Bedrooms, laboratories, office areas and energy centres are housed in standardised blue modules. A larger two-storey light-filled red module provides the social heart of the station and is used for living, dining and recreation. Inspiring interior design provides an uplifting environment to sustain the crew through the long dark winters, helping to combat the debilitating influence of Seasonal Affected Disorder. Halley VI incorporates medical operating facilities, air traffic control systems and CHP power plants and is a microscopic self-supporting infrastructure-free community.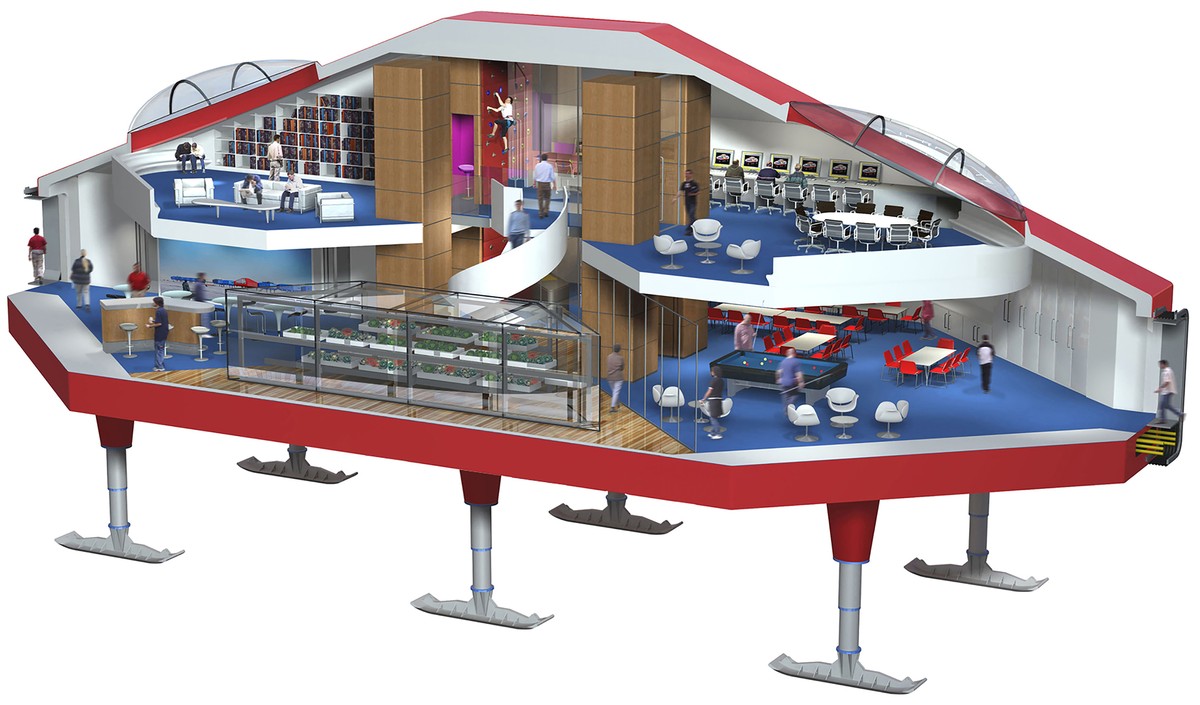 Isometric view central module
The station is arranged in a straight line perpendicular to the prevailing wind so that snow drifts form on the leeward side. This leaves the windward side free from drifts, reducing snow management requirements and creating a hard icy surface across which vehicles can easily move. The base is split in two for life safety. Each half has its own energy centre and is self sustaining in case of emergency. A bridge link allows sharing of power, drainage and water.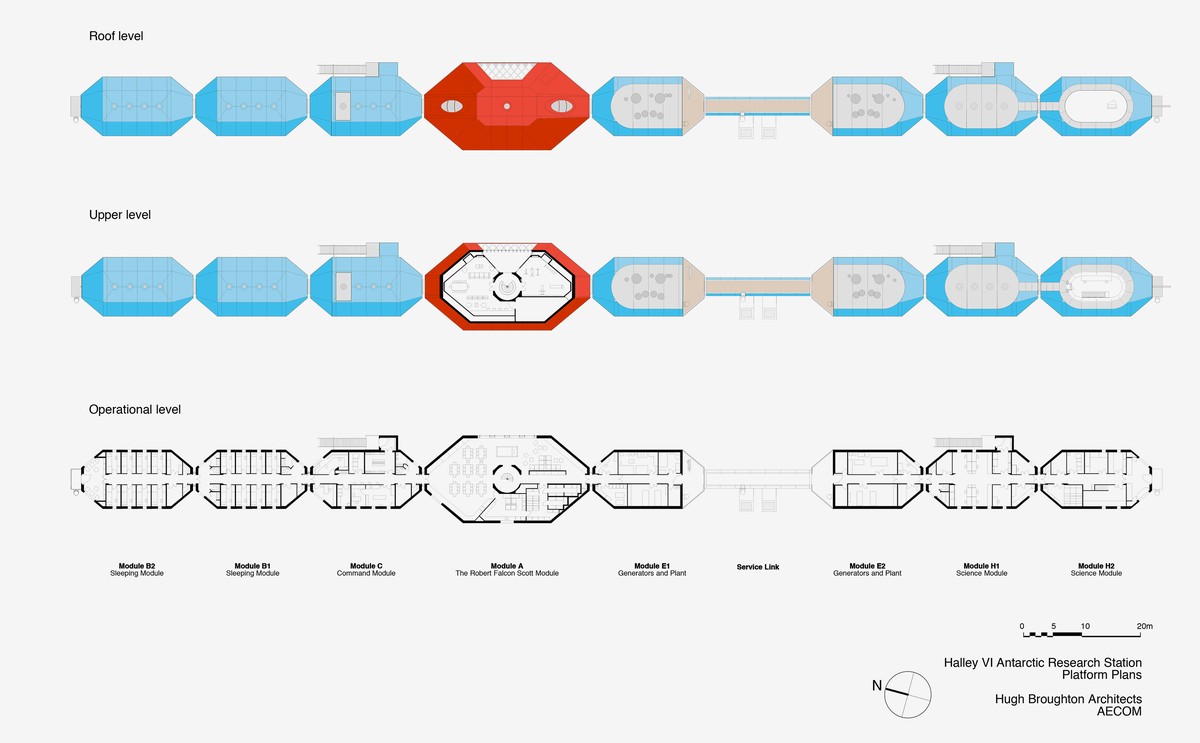 Halley VI Plans
The modules are supported on giant steel skis and hydraulically driven legs that allow the station to mechanically 'climb' up out of the snow every year. And as the ice shelf moves out towards the ocean, the modules can be lowered and towed by bulldozers further inland, and eventually taken apart when the time comes.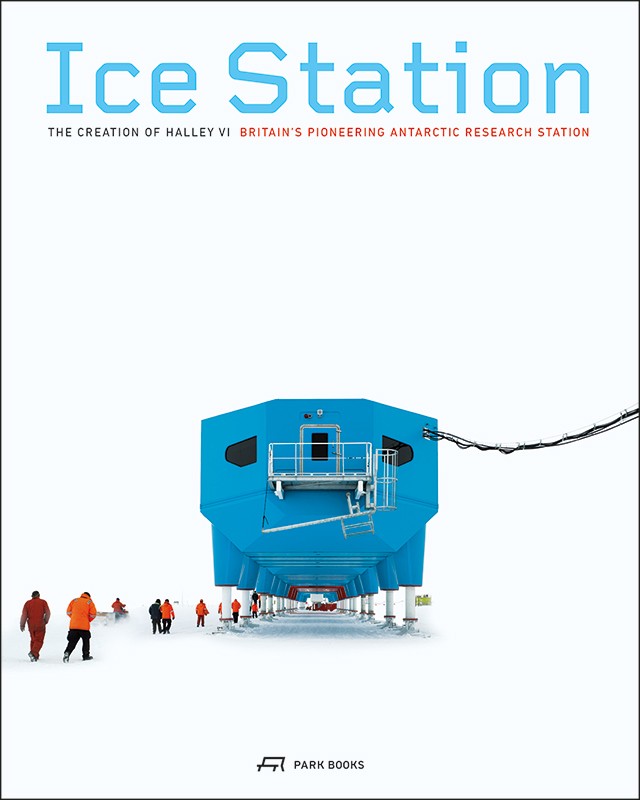 "Ice Station" by Ruth Slavid
The modules are constructed with a robust steel structure and clad in highly insulated composite GRP panels. Prefabrication of structure, cladding, rooms and services was maximised within the limitations of the sea ice. Products were sourced from all over the world with the centre of pre-construction activities in South Africa, where full scale trial erection of modules was undertaken prior to shipping to Antarctica by ice-strengthened cargo ship. The modules were erected over three 12-week summer seasons using a factory line approach at Halley V, which was used to support the construction crew. Once they were fully clad, the modules were moved 15 kms inland to the Halley VI site, proving the relocation strategy.
Fit out was completed in the final season and the station opened in February 2013.
If you wish to learn more about the creation of Halley VI, you can purchase Ruth Slavid's Ice Station here.