Halley VI is on display at Constellation.s, a major exhibition created and organised by arc en rêve centre d'architecture in Bordeaux (France). The exhibition will be open until 25 September 2016.
The world is changing, and the ways of inhabiting it are changing too. More than ever, architecture, cities, and the tangible and intangible territories of human habitation must be considered in the light of what no longer exists and what has not yet happened.
The exhibition showcases initiatives from all around the world, directly linked to local and global mutations, in an age of digital revolution and ecological urgency. For further information see www.arcenreve.com
More news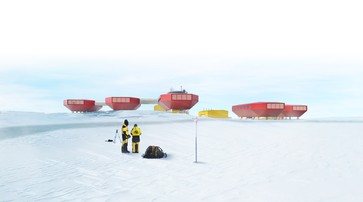 News 30 November 2020
The Australian Antarctic Division (AAD) has appointed Hugh Broughton Architects to join a team led by multi-disciplinary consultants WSP to masterplan the modernisation of the infrastructure at Davis research station in East Antarctica. Initial masterplanning is now complete, and masterplan concept development is ongoing.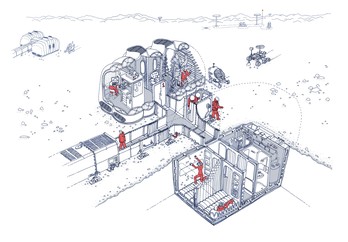 News 26 October 2020
A full-scale house designed for future life on Mars has received planning permission in Bristol. The house is the outcome of an ongoing public art project, 'Building a Martian House'.