A full-scale house designed for future life on Mars has received planning permission in Bristol. The house is the outcome of an ongoing public art project, 'Building a Martian House'.
The project is conceived of and led by local artists Ella Good and Nicki Kent, who have brought together artists, scientists, architects, engineers and the public over several years to explore how we live today and stimulate visions for new ways of living here on Earth and on Mars.
Hugh Broughton Architects has worked in partnership with Pearce+ and the artists to produce the concept design based on the public's ideas. The house will be presented in partnership with M Shed and is funded by The Edward Marshall Trust.
'Building a Martian House' is due to open in April 2022 and run until the end of August 2022.
More news
News 25 July 2022
Hugh Broughton Architects is seeking a Part 3 Architect with proven Revit skills and experience in the production of construction details and specifications. The successful candidate will take the lead in the delivery of smaller projects as well as work within teams, assisting with the exploration of design ideas and production of work packages and specifications.
Please refer to the Contact page for a role description and to learn how to apply.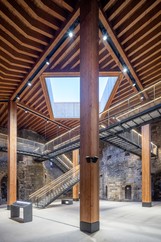 News 11 July 2022
Our project for English Heritage at the medieval Clifford's Tower in York, designed with Martin Ashley Architects, has won three York Design Awards – the John Shannon Award for Conservation, the Young People's Award and the York Press People's Choice Award