The British Antarctic Survey (BAS) has successfully relocated Halley VI Antarctic Research Station to its new home on the Brunt Ice Shelf.
The Halley VI relocation team has carried out – for the first time – what the station was designed to do. Operational teams have spent the past 13 weeks moving each of the station's eight modules 23 km upstream of a previously dormant ice chasm. The station is now ready for re-occupation at the end of the Antarctic winter (November 2017).
More news
News 2 November 2021
HBA will be showing designs for the Discovery Building at Rothera Research Station in Polar Net Zero at COP26 Green Zone on 5 November in partnership with British Antarctic Survey, Sweco and BAM Nuttall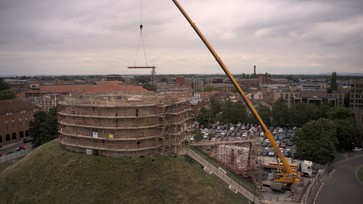 News 2 September 2021
A major milestone has been reached on our project for English Heritage at Clifford's Tower with the arrival of the glulam structure to site in York.