The British Antarctic Survey (BAS) has successfully relocated Halley VI Antarctic Research Station to its new home on the Brunt Ice Shelf.
The Halley VI relocation team has carried out – for the first time – what the station was designed to do. Operational teams have spent the past 13 weeks moving each of the station's eight modules 23 km upstream of a previously dormant ice chasm. The station is now ready for re-occupation at the end of the Antarctic winter (November 2017).
More news
News 11 April 2022
Hugh Broughton Architects is seeking an experienced Part 3 Architect to join our expanding studio, taking up a permanent, dynamic role at the heart of our team – contributing to exciting projects ranging from listed buildings in the UK to research stations in Antarctica.
Please refer to the Contact page for a role description and to learn how to apply.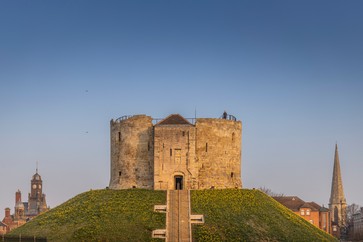 News 29 March 2022
The conservation and major project we designed with Martin Ashley Architects at the medieval Clifford's Tower for English Heritage opens to the public on 2nd April. It includes a timber structure supporting a deck with views towards York Minster. Suspended metal walkways give access to features unseen by the public for 350 years.