Want to learn how design can help sustain people living in isolation? The Architecture Centre is hosting a Zoom talk with Hugh Broughton on Thursday 30 April at 7 PM.
The talk will be based on Hugh's experience of designing research stations in Antarctica – buildings whose residents live in complete darkness during winter and are cut off from the rest of the world for long periods of time. The lessons learned from working in such an extreme environment are more relevant than ever before in a time when social distancing has become the norm.
More news
News 2 November 2021
HBA will be showing designs for the Discovery Building at Rothera Research Station in Polar Net Zero at COP26 Green Zone on 5 November in partnership with British Antarctic Survey, Sweco and BAM Nuttall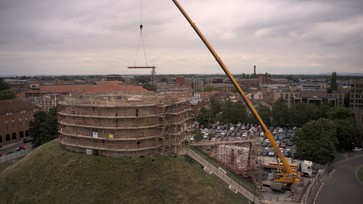 News 2 September 2021
A major milestone has been reached on our project for English Heritage at Clifford's Tower with the arrival of the glulam structure to site in York.