Location
Old Royal Naval College, Greenwich, London
Date
2014 - 2019
Client
Old Royal Naval College
HBA Team
Hugh Broughton, Adam Knight, Owen Pearce, David Roberts, James Waddington, Emma Watson
Collaborators
Martin Ashley Architects
(Surveyor of the Fabric)
SFK Consulting (Structural Engineer)
QODA (Services Engineer)
Tobit Curteis Associates
(Environmental Consultant)
Huntley Cartwright (Cost Consultant)
Simon Leach Design
(Interpretation Designer)
ARC (CGI Visuals)
Coniston (Main Contractor)
Paine and Stewart (Paintings Conservator)
Awards
New London Awards 2018 - Winner (Unbuilt Category)
AIA UK 2019 Design Awards 'Professional Award Commendation'
Museums and Heritage Awards 2019 'Conservation Project of the Year'
RIBA London Award 2019 'Conservation Award'
RIBA London Award 2019
RIBA National Award 2019
Georgian Group Architectural Awards 2019 'Best Restoration of a Public Building'
Civic Trust Award 2020
Civic Trust Conservation Commendation 2020
Civic Trust Access Commendation 2020
The Painted Hall in the Old Royal Naval College is part of the great assembly of buildings designed for Greenwich Hospital by Sir Christopher Wren in 1696 with significant parts executed by Nicholas Hawksmoor and Sir John Vanbrugh. The Grade I Listed Painted Hall, decorated by Sir James Thornhill, comprises one of the most important Baroque painted interiors in Europe. Although the paintings were conserved in the 1950s, bright sunlight and fluctuations in temperature and humidity had caused damage.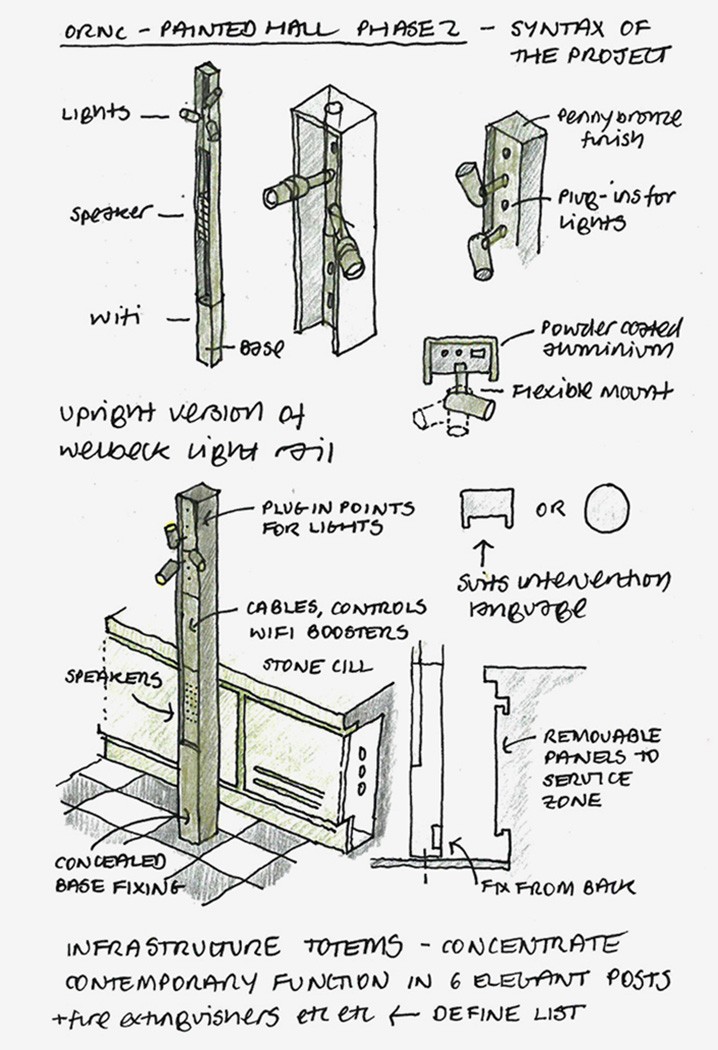 Concept sketches
The project, which is part-funded by the National Lottery Heritage Fund, delivers innovative measures to stabilise the environment in the Painted Hall, including a new entrance off College Way leading into the vaulted King William Undercroft, fully revealed for the first time in 100 years. This provides a new welcome area, shop and café supported by refurbished kitchens. The revitalised space is characterised by high-quality craftsmanship. It includes a stone floor, extended leather banquettes, bespoke joinery and a refined bronze, framed glazed screen, which provides a buffer to reduce environmental impact in the Painted Hall.
The Sackler Gallery beyond provides an interpretation space and includes the exposed remains of the palace built by Henry VII, uncovered during the project and now displayed behind an oval glass and bronze balustrade.
Within the Painted Hall, 3700m2 of painted surfaces have been painstakingly conserved and the internal environment stabilised. Environmental measures, including draught proofing, solar shading and specially controlled conservation heating system, have been designed using cutting-edge monitoring and modelling processes to optimise the environment for protection of the paintings in perpetuity, whilst maximising visitor comfort and enjoyment of the remarkable sequence of paintings. Following an enabling phase, which improved means of escape and created inclusive access to the hall, the project has allowed the removal of clutter, concealment of visible services, and installation of discreet lighting and new seating.
A fully accessible scaffold constructed during the project allowed 80,000 visitors to witness the conservation work at close quarters.
Hugh Broughton Architects has worked closely with the College's Surveyor of the Fabric, Martin Ashley Architects.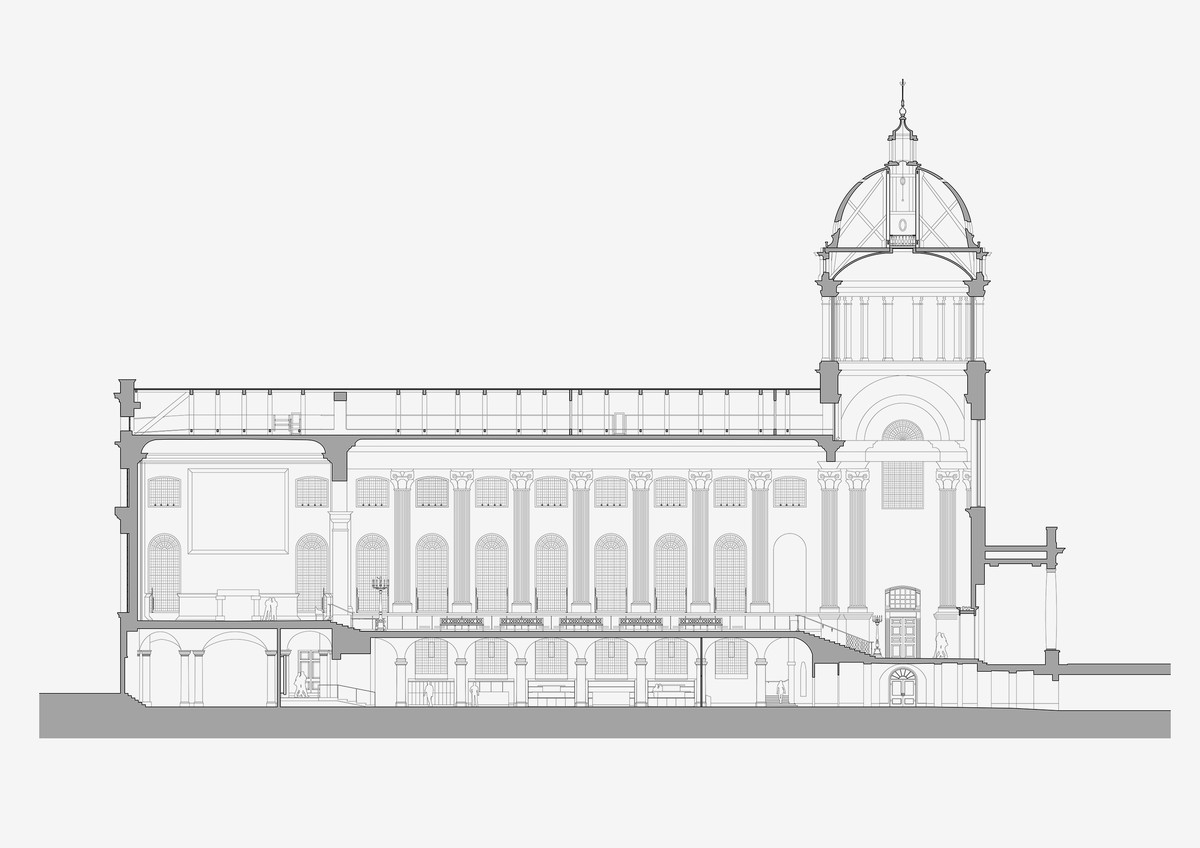 Section showing the new welcome space within the Undercroft and the conserved Painted Hall above