Location
Old Royal Naval College, Greenwich, London
Date
2014 - 2018 (Ongoing)
Client
Greenwich Foundation
HBA Team
Hugh Broughton, Adam Knight, Owen Pearce, David Roberts, James Waddington, Emma Watson
Collaborators
Martin Ashley Architects
(Surveyor of the Fabric)
SFK Consulting (Structural Engineer)
QODA (Services Engineer)
Tobit Curteis Associates
(Environmental Consultant)
Huntley Cartwright (Cost Consultant)
Simon Leach Design
(Interpretation Designer)
ARC (CGI Visuals)
Coniston (Main Contractor)
Awards
New London Awards 2018 - Winner (Unbuilt Category)
The Painted Hall sits within the Old Royal Naval College, designed by Sir Christopher Wren in 1696 with significant parts executed by Nicholas Hawksmoor, Sir John Vanburgh and Thomas Ripley. The Hall, decorated by Sir James Thornhill, comprises one of the most important Baroque painted interiors in Europe. The paintings have been conserved on a number of occasions, most recently in the 1950s, however bright light and fluctuations in temperature and humidity continue to cause damage to the painted surfaces.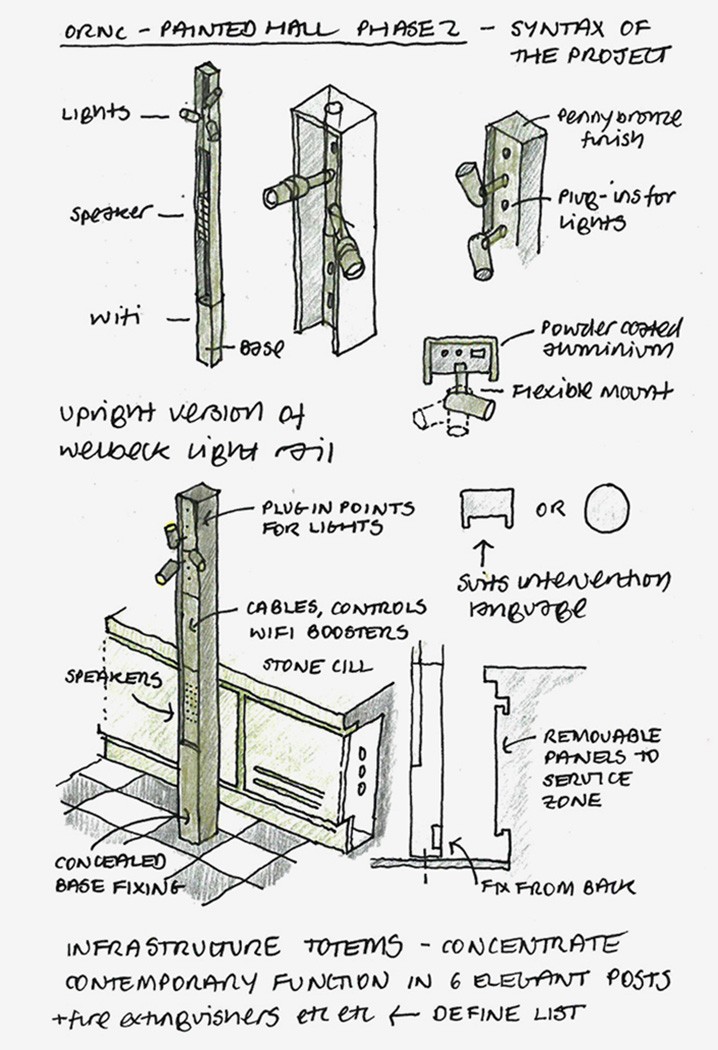 Concept sketches
Following a competitive process, Hugh Broughton Architects were selected to work on a major HLF-funded project to conserve the Painted Hall and provide facilities for an expected 800,000 visitors a year.
The design proposes a new entrance from College Way into the peerless Undercroft designed by Nicholas Hawksmoor, which will be revealed in its entirety for the first time in nearly 100 years. The undercroft will be fully and carefully refurbished to provide an exciting welcome area, a shop and a café with 88 covers, with refurbished kitchens.
Within the Painted Hall 3700m2 of painted surfaces will be conserved and the internal environment will be stabilised to dramatically reduce future degradation. Measures will include draft proofing, solar shading and replacing the heating system.
Following an enabling phase which improved means of escape and created disabled access to the hall, the new proposals include the removal of clutter, concealment of visible services, the installation of carefully considered lighting and new seating, all of which will help to create a calm atmosphere to enjoy Thornhill's masterpiece.
An accessible scaffold constructed during the project will allow visitors to witness conservation work at close quarters. The programme has been developed to minimise impact on the important function business and maintain visitor access to other parts of the College.
The project is fully supported by Historic England and the Painted Hall and undercroft will re-open to the public in March 2019. Support has also been offered by a series of benefactors including a significant bequest from the Dr Mortimer and Theresa Sackler Foundation.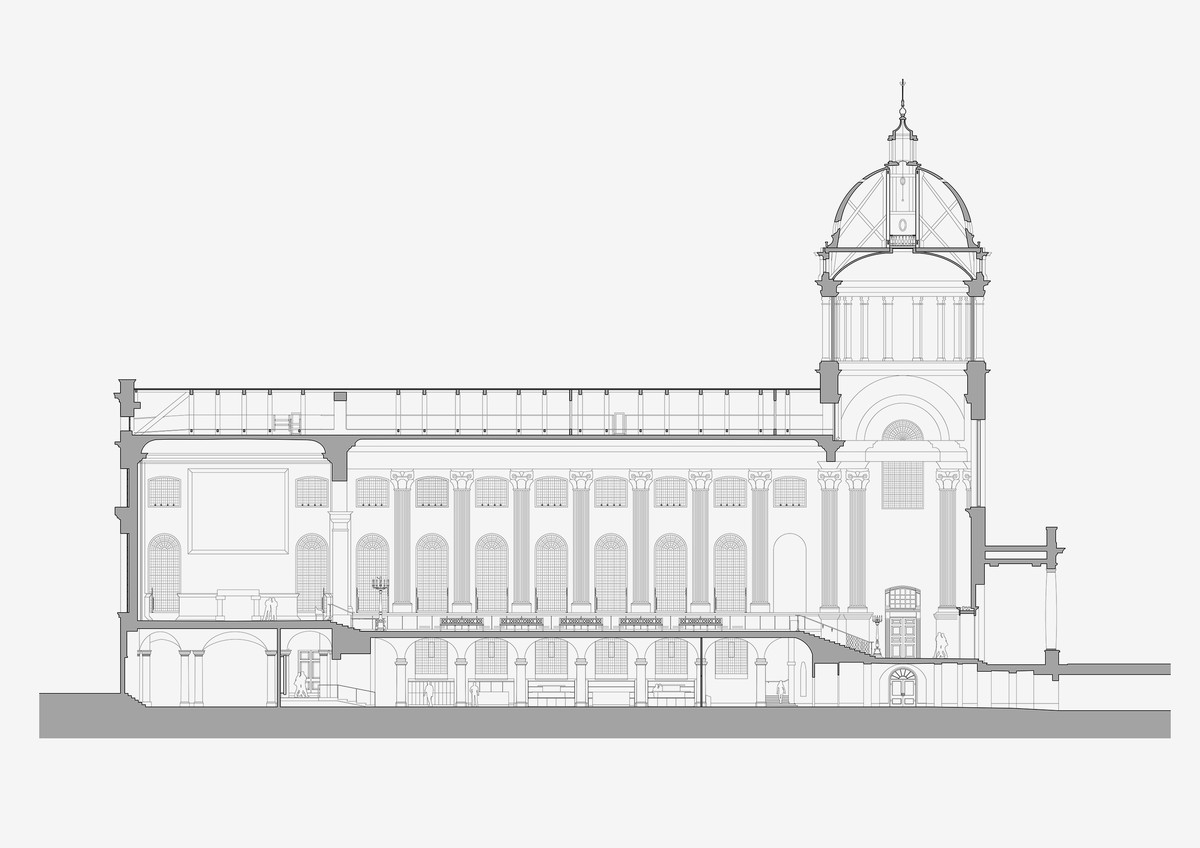 Proposed section showing the new welcome space within the Undercroft and the conserved Painted Hall above