Location
Welbeck, Nottinghamshire, England
Date
2012 - 2016
Client
The Harley Foundation
HBA Team
Hugh Broughton, Kirsty McPeake, Greg Penate, David Roberts, Phil Wells
Collaborators
Price & Myers (Structural Engineer)
AECOM (Services Engineer)
Ridge (Cost Consultant)
Ronayne Design (Exhibition Designer)
Speirs and Major (Lighting Designer)
Ramboll (Acoustic Consultant)
Awards
American Architecture Prize 2016 - Silver Award
RIBA National Award 2016
RIBA East Midlands Award 2016 'Building of the Year'
RIBA East Midlands Award 2016 'Sustainability Award'
RIBA East Midlands Award 2016 'Conservation Award'
RIBA East Midlands Award 2016

Photography
Hufton + Crow
The Portland Collection is one of the finest accumulations of paintings, sculpture, books, tapestries and furniture in private hands in Britain. It was assembled by the Cavendish-Bentinck family, who has lived at Welbeck Abbey for over 400 years. Historically the majority of items have been privately displayed, but in 2010 the family decided to build a gallery to show the Collection to the public.
Hugh Broughton Architects was selected as architect following a design competition organised by Malcolm Reading Consultants. The brief called for "a new gallery to exhibit fine and decorative arts, which would complement the existing work of the neighbouring Harley Gallery and the historic interiors in the state rooms of the main house". It also called for "an enhanced visitor experience achieved through creation of a common entrance, improved landscaping and a single design overlay".
The competition-winning design delivers clarity to a courtyard, which includes the Harley Gallery, Limehouse café and a Farm Shop. Views have been improved by lowering perimeter walls, and finishes have been simplified.
The new gallery is housed within the old walls of the Tan Gallop, a redundant structure which was previously used for training racehorses. Externally, elevations have been crisply detailed in handmade Danish brick, which contrasts with and complements original stone walls. Protruding barrel vaulted zinc roofs provide a dynamic roofline, evoking silhouettes of the Abbey and hinting at the drama within.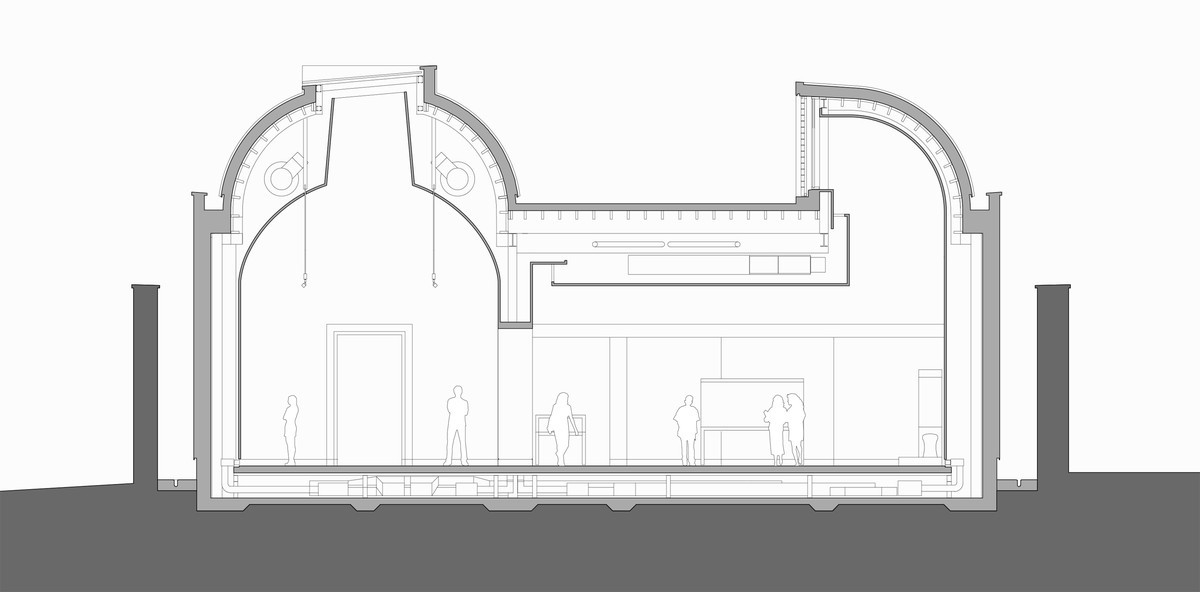 Cross section through galleries
Visitors enter through a steel frame glazed entrance pavilion, which provides a light and airy threshold with clear views on to a line of trees and a 19th century lodge, now the curatorial offices. Within the entry pavilion, the original stone walls of the Gallop have been exposed to view. A limestone-clad reception desk sits in front of three full height windows with views to a mature landscape to the north. Contemporary walls mask a disabled toilet and toplit stairs leading down to other public toilets, staff areas and lockers contained within a basement. Principles of inclusivity guided the design from start to finish.
The first gallery that visitors enter is 22m long with a cycloidal fibrous plaster ceiling set under a barrel vault roof, seemingly cut in half by a full length translucent rooflight, filling the space with diffuse light and creating the perfect environment to display oil portraits. At the far end a doorway leads to a vitrine of gold and silver, creating an alluring termination to views. From this enclosed space visitors emerge into a large gallery, sub-divided into three zones. Two are lit by north lights and one features low ceilings and controlled lighting for the display of miniatures.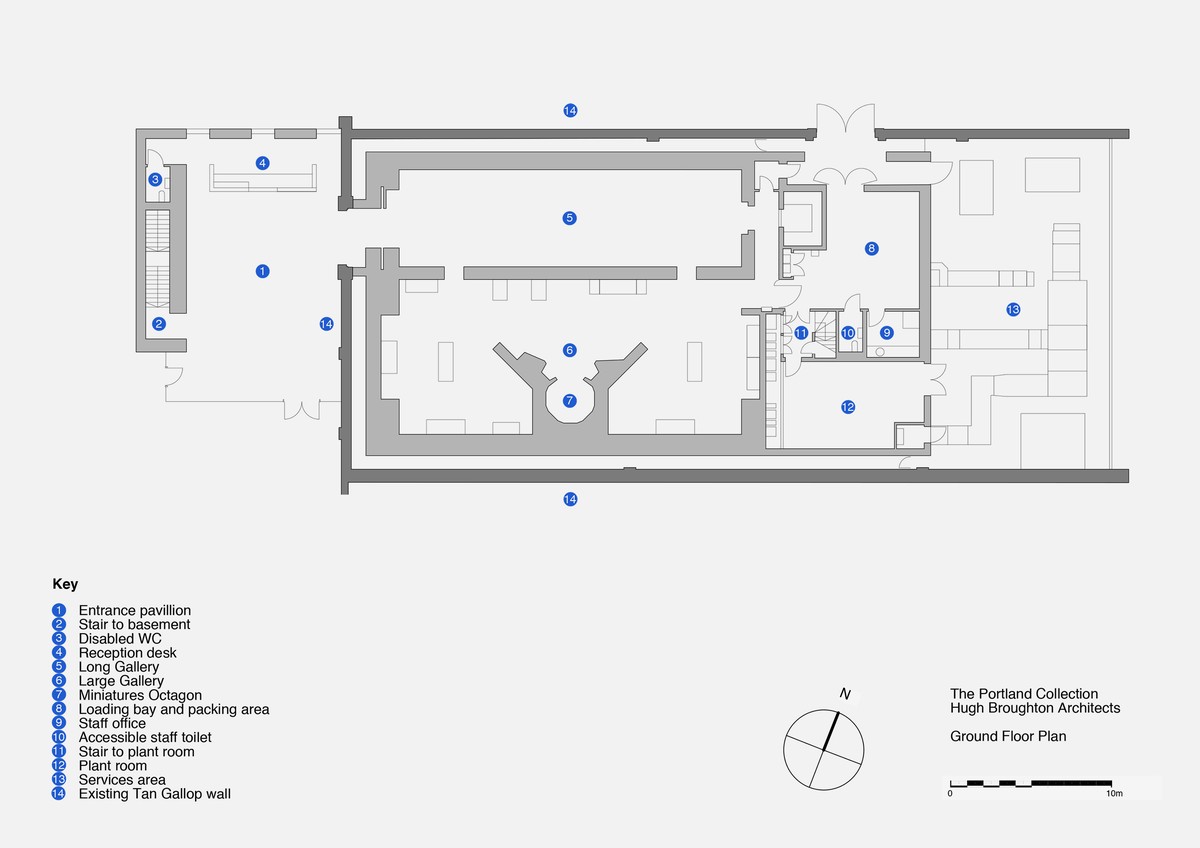 Gallery plan
Temperature and humidity are closely controlled and meet Government Indemnity Scheme standards. Air source heat pumps reduce fossil fuel reliance. Electrical demand is met by a remote photovoltaic array to ensure a sustainable energy strategy. The scheme was constructed using traditional procurement, and Building Control compliance was monitored by an Approved Inspector.