The Portland Collection has been announced as the recipient of an RIBA National Award 2016. All award-winning projects will now be considered for this year's Stirling Prize.
The project has been praised for the way it nestles delicately within a cluster of existing buildings as well as the integration of existing stone walls with a simple palette of materials that blends into its historic context.
Judges commented: "...the building creates a subtle design that sits perfectly in the grounds of the Grade 1 listed Welbeck Abbey, integrating new and historic elements with a careful selection of materials and crisp detailing to create a highly sophisticated design".
Earlier this year the project was also crowned 'RIBA East Midlands Project of the Year'.
More news
News 11 April 2022
Hugh Broughton Architects is seeking an experienced Part 3 Architect to join our expanding studio, taking up a permanent, dynamic role at the heart of our team – contributing to exciting projects ranging from listed buildings in the UK to research stations in Antarctica.
Please refer to the Contact page for a role description and to learn how to apply.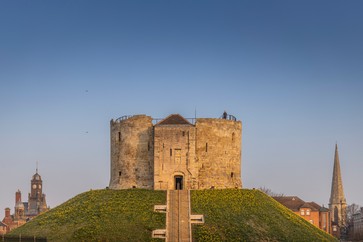 News 29 March 2022
The conservation and major project we designed with Martin Ashley Architects at the medieval Clifford's Tower for English Heritage opens to the public on 2nd April. It includes a timber structure supporting a deck with views towards York Minster. Suspended metal walkways give access to features unseen by the public for 350 years.