Our project for the conservation of Sir Christopher Wren's Painted Hall at Greenwich's Old Royal Naval College has been granted Scheduled Ancient Monument consent and awarded a £3.2M grant from the Heritage Lottery Fund towards the £8M project cost.
Planned to complete in 2018, the project will restore the Christopher Wren and Nicholas Hawksmoor-designed building and create a new entrance to the undercroft, which will be revealed in its entirety for the first time in nearly 100 years.
More than 3,700m² of painted surfaces will be conserved and the project will see the ceiling of the lower hall – showing King William III and Queen Mary II – and the interior of the vestibule – listing the names of historic donors – both returned to their former glory.
A new visitor centre – featuring a reception, shop, toilets and café – will also be created in the undercroft.
More news
News 2 November 2021
HBA will be showing designs for the Discovery Building at Rothera Research Station in Polar Net Zero at COP26 Green Zone on 5 November in partnership with British Antarctic Survey, Sweco and BAM Nuttall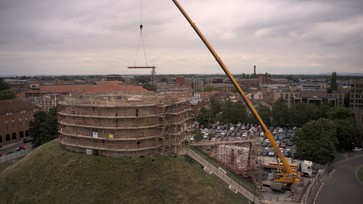 News 2 September 2021
A major milestone has been reached on our project for English Heritage at Clifford's Tower with the arrival of the glulam structure to site in York.