The project for the Conservation of the Painted Hall has won four design awards in the last month.
Firstly the scheme won a Professional Award from the UK Chapter of the American Institute of Architects, shortly followed by the accolade of 'Conservation Project of the Year' at the Museum and Heritage Awards. More recently the scheme was the recipient of an RIBA London Award for Architecture as well as the prestigious accolade of 'RIBA London Conservation Project of the Year'.
The project was developed in close collaboration with Martin Ashley Architects - the College's Surveyor of the Fabric - and was part-funded by the National Lottery Heritage Fund.
The scheme delivers innovative measures to stabilise the environment in the Painted Hall, including a new entrance off College Way leading into the vaulted King William Undercroft, fully revealed to the public for the first time in 100 years. The undercroft includes the exposed remains of the palace built by Henry VII, uncovered during the project and now displayed behind an oval glass and bronze balustrade.
More news
News 11 April 2022
Hugh Broughton Architects is seeking an experienced Part 3 Architect to join our expanding studio, taking up a permanent, dynamic role at the heart of our team – contributing to exciting projects ranging from listed buildings in the UK to research stations in Antarctica.
Please refer to the Contact page for a role description and to learn how to apply.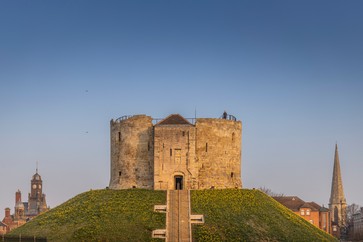 News 29 March 2022
The conservation and major project we designed with Martin Ashley Architects at the medieval Clifford's Tower for English Heritage opens to the public on 2nd April. It includes a timber structure supporting a deck with views towards York Minster. Suspended metal walkways give access to features unseen by the public for 350 years.