The project for the Conservation of the Painted Hall has won four design awards in the last month.
Firstly the scheme won a Professional Award from the UK Chapter of the American Institute of Architects, shortly followed by the accolade of 'Conservation Project of the Year' at the Museum and Heritage Awards. More recently the scheme was the recipient of an RIBA London Award for Architecture as well as the prestigious accolade of 'RIBA London Conservation Project of the Year'.
The project was developed in close collaboration with Martin Ashley Architects - the College's Surveyor of the Fabric - and was part-funded by the National Lottery Heritage Fund.
The scheme delivers innovative measures to stabilise the environment in the Painted Hall, including a new entrance off College Way leading into the vaulted King William Undercroft, fully revealed to the public for the first time in 100 years. The undercroft includes the exposed remains of the palace built by Henry VII, uncovered during the project and now displayed behind an oval glass and bronze balustrade.
More news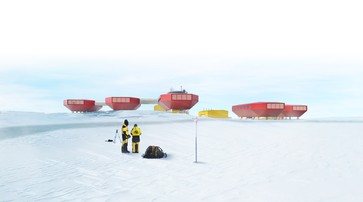 News 30 November 2020
The Australian Antarctic Division (AAD) has appointed Hugh Broughton Architects to join a team led by multi-disciplinary consultants WSP to masterplan the modernisation of the infrastructure at Davis research station in East Antarctica. Initial masterplanning is now complete, and masterplan concept development is ongoing.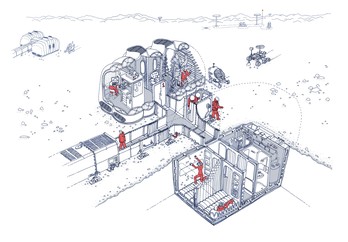 News 26 October 2020
A full-scale house designed for future life on Mars has received planning permission in Bristol. The house is the outcome of an ongoing public art project, 'Building a Martian House'.