The conservation of The Painted Hall in Greenwich has won a 2020 Civic Trust Award, AABC Conservation Award and Selwyn Goldsmith Award. It is the first time in the history of the Civic Trust Awards programme that one project has received three awards.
The Painted Hall in the Old Royal Naval College is part of the great assembly of buildings designed for Greenwich Hospital by Sir Christopher Wren in 1696 with significant parts executed by Nicholas Hawksmoor and Sir John Vanbrugh. The Grade I Listed Painted Hall, decorated by Sir James Thornhill, comprises one of the most important Baroque painted interiors in Europe.
The Civic Trust Awards ceremony took place on 6 March in Manchester. Representing Hugh Broughton Architects were Hugh Broughton and Adam Knight, our project architect. Hugh Broughton Architects worked closely with the College's Surveyor of the Fabric, Martin Ashley Architects, on The Painted Hall.
More news
News 11 April 2022
Hugh Broughton Architects is seeking an experienced Part 3 Architect to join our expanding studio, taking up a permanent, dynamic role at the heart of our team – contributing to exciting projects ranging from listed buildings in the UK to research stations in Antarctica.
Please refer to the Contact page for a role description and to learn how to apply.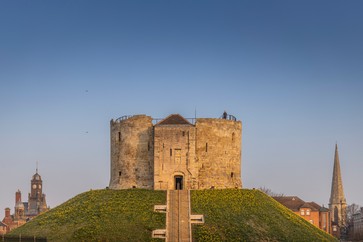 News 29 March 2022
The conservation and major project we designed with Martin Ashley Architects at the medieval Clifford's Tower for English Heritage opens to the public on 2nd April. It includes a timber structure supporting a deck with views towards York Minster. Suspended metal walkways give access to features unseen by the public for 350 years.