Location
Clerkenwell, London, England
Date
2007 – 2008
Client
Derwent London
HBA Team
Hugh Broughton, Grenville Herrald, Harriet Redman
Collaborators
Price & Myers (Structural Engineer)
Peter Deer Associates (Services Engineer)
Jackson Cole
(Project Manager / Cost Consultant)
Cartlidge Levene (Graphic Designer)
Del Buono-Gazerwitz (Landscape Architect)
Contrakt Ltd (Main Contractor)

Photography
Matt Chisnall
The 33,000 square feet office building, originally completed in 1992, is in the heart of one of London's most prominent commercial districts. The project was commissioned by Derwent London, one of the capital's most creative developers. Our elegant refurbishment and extension was entirely pre-let prior to completion at an excellent rent, a remarkable achievement when set against the background of the unprecedented international economic crisis of 2009.
Designed by Troughton McAslan, the building was formerly the home of the Architect's Journal and the Architectural Review. The ground floor has been extended to increase net lettable area; the main reception area has been enlarged; common parts and toilets have been modernised; the office floor plates have been fully refurbished including new lighting, ceilings and finishes; and the courtyard to the rear of the building has been upgraded with fewer car parking spaces, increasing the provision of bike stands and enhancing the outdoor space as an amenity for office workers.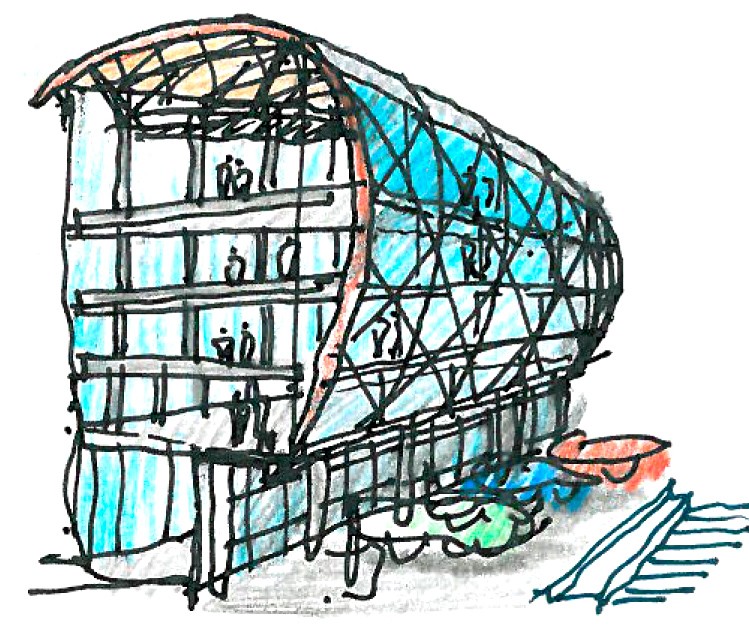 Concept sketch
Key design features of the project include a terrazzo floor in the reception area which is interwoven with strands of fibre optic which flicker as you walk across; leather clad computer cut panels within the reception and in the refurbished lift cars; a reception screen formed with 528 lacquered spheres held in tension within a steel frame; a brightly coloured 3d graphic signage system developed in collaboration with Cartlidge Levene; and a landscaped courtyard finished with timber decking arranged in fan shaped steps and further enhanced with planting designed by Del Buono-Gazerwitz.