Location
Bloomsbury, London, England
Date
1996 - 2019
Client
Trades Union Congress
HBA Team
Hugh Broughton, John Carey, Hamish Haarblicher, Adam Hill, Adam Knight, Jessica Knight, John McLaughlin, Joan Lin, Greg Penate, Gianluca Rendina, Emma Watson
Collaborators
Ian Fellingham Associates (Multidisciplinary Engineers / Project Manager)
ARUP (Multidisciplinary Engineer)
Price & Myers (Structural Engineer)
Harley Haddow (Services Engineer)
Stace (Cost Consultant)
Jackson Cole (Cost Consultant)
Pritchard Themis (Lighting Designer)
Eva Berendes (Artist)
Benson (Main contractor)
Sharkey SE (Main Contractor)

Photography
James Brittain
James Morris
We have been working with the TUC on a multi-phased refurbishment of their headquarters in Bloomsbury for over 20 years and this project demonstrates our ability to deliver high quality design and support to our clients over a very long period.
The Trades Union Congress Memorial Building was completed in 1957. Despite the quality of finishes and construction, after 40 years of use parts of the building were inevitably beginning to show their age. To make matters worse, from the 1980s union membership had fallen making less money available for building maintenance. As a result the Trades Union Congress decided to look to its own building to help generate funds for its upkeep, in particular their sizeable conference facilities.
Over the past 20 years we have completed numerous projects within the curtilage of the existing building. Projects included extensive work on the conference facilities, the upgrade of the main reception, café and public toilets, the provision of disabled access and reconfiguration of offices and meeting rooms, including the General Secretary's suite. In 2016 we designed and completed the installation of a highly transparent ETFE roof over the internal courtyard, which has enabled reinstatement of the original glass roof over the conference hall below and conservation of original fabric, including an important sculpture by Sir Jacob Epstein. In 2018 we completed our largest project at Congress House to date – the £6.3 million refurbishment of The Rookery to create a new entrance with an artwork by German artist Eva Berendes, a reception area, lettable offices on four floors and staff facilities within the building's basement.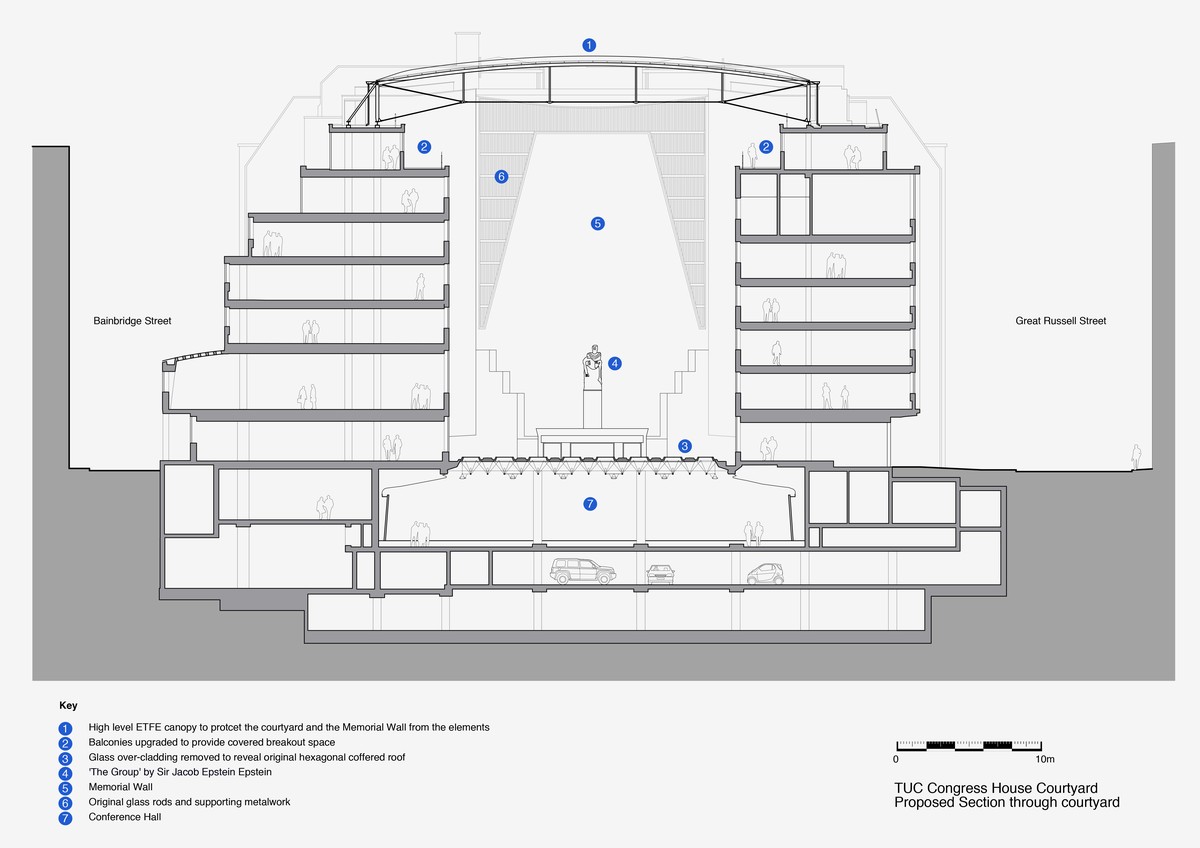 Cross section showing the new ETFE roof over the courtyard
Throughout the project, our work has been characterised by a consistent architectural approach. Retained original fabric has been carefully restored, all the services have been upgraded, access has been improved and interventions have been designed in a contemporary manner. The approach has been developed in close collaboration with English Heritage and the London Borough of Camden, with whom we have also developed one of the first Management Guidelines, setting a workable framework for managing the inevitable change of a working environment whilst protecting the historic context.