Location
Aldgate, London, England
Date
2010
Client
The Architecture Foundation
HBA Team
Hugh Broughton, Harriet Redman, Phil Wells
Collaborators
SKM Anthony Hunts (Structural Engineer)
Boyden and Company (Cost Consultant)
ARC (CGI Visuals)

This concept combines bold urban design with technical sophistication to create a pop up park in the heart of the urban jungle, springing up almost instantly on traffic islands or redundant sites and then disappearing to another location just as fast. With its softly flowing horizontal forms the pop up park provides a modern oasis where people can find time to stop and take breath from their hectic urban lives.
With a green wall lift shaft and upper deck planting, the park brings unexpected greenery to soften the city and make the previously uninhabitable suddenly rather inviting. The upper tier seats allow people to look out as well as in. The edge is kept free so that people can look out from any point. The deck ramps up to elevated points at the three prows to emphasise views out. A stair and a simple lift enclosed in hydroponic planted panels climb up to the park level. This kind of lift is commonly used for people movement on building sites and does not need a pit. A photovoltaic array above the lift shaft will create sufficient power for the park's energy needs.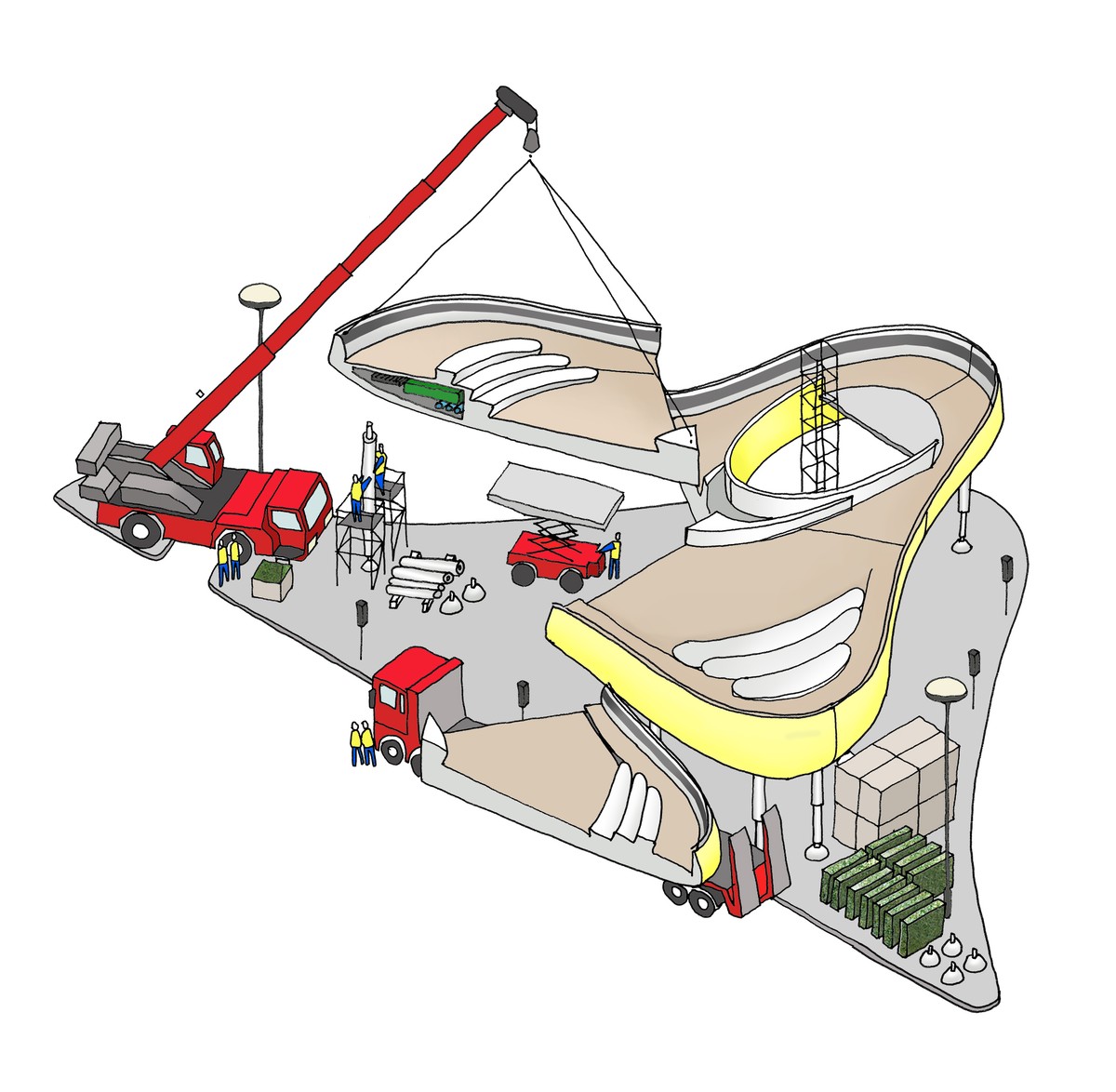 Sketch illustrating construction methodology
The pop up park is raised on adjustable stainless steel legs supported on spreader pads. Adjustability allows the park to be relocated to any site no matter what the terrain. The shell is formed in six composite fibre reinforced polymer sections, which are bolted together to form a monocoque structure just like our designs for the Juan Carlos 1 Spanish Antarctic Base. This structure is light, simple to make and easy to erect, which means it can be put together and taken apart in a very short timeframe. Materials generally have been selected for durability and easy maintenance.