Location
Cherepovets, Vologda Oblast, Russia
Date
2008
Client
Living Steel
HBA Team
Hugh Broughton, Phil Wells
Collaborators
AECOM (Multidisciplinary Engineer)
Boyden and Company (Cost Consultant)
ARC (CGI Visuals)

Awards
Finalist International Living Steel Competition 2008
Hugh Broughton Architects were chosen as one of 12 finalists in the international Living Steel competition to develop innovative housing concepts for steelworkers in Cherepovets in northern Russia. The practice was selected from an initial application of over 1000 firms from around the world. Drawing heavily from the firm's groundbreaking work for extreme environments, the proposals explore the application of modular prefabricated components to the mass housing market.
The contemporary homes were inspired by some of Russia's most distinctive domestic architectural features. The open fireplace, at the core of the Russian house, is pivotal, as are the colourful exteriors. The integration of these elements helped to create houses with a cultural reference while retaining the image of sustainable contemporary dwellings.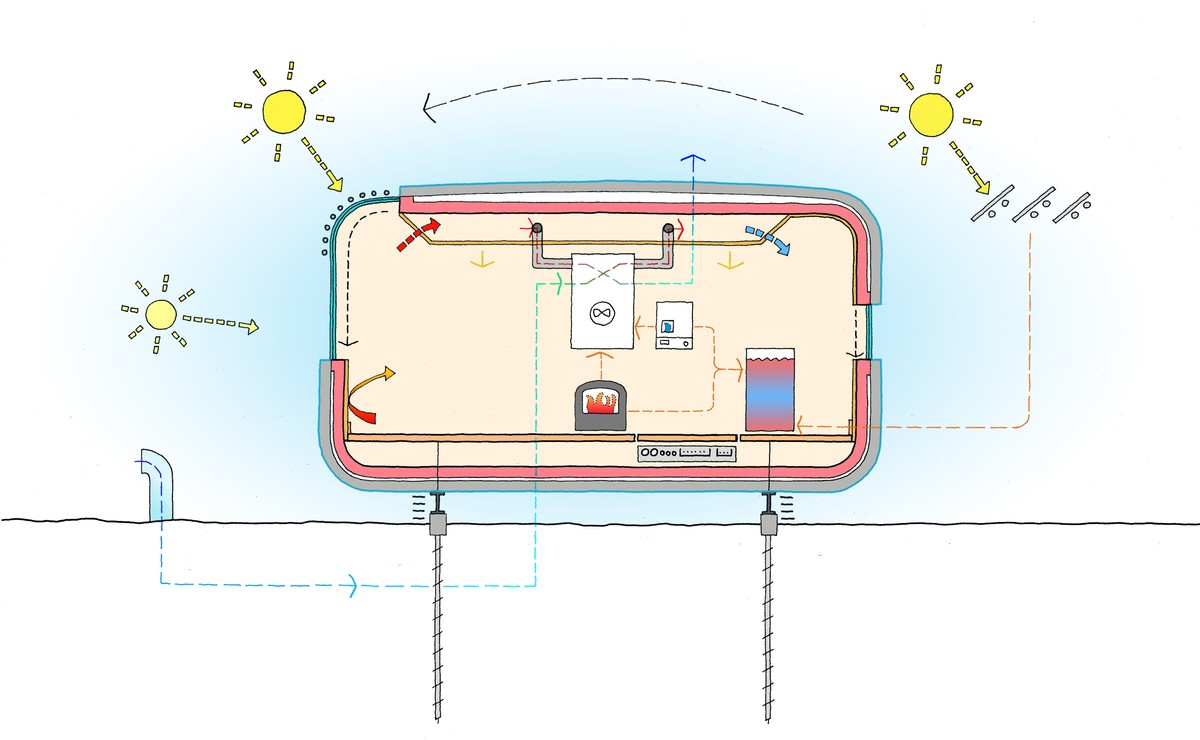 Cross section illustrating environmental principles
The four models hover above the ground and respond to different conditions on the site whether by the lake, in the trees, in the grass or appearing to glide through the air. Accessed by steps as well as ramps, stepping into these homes is akin to entering a spacecraft. The tough exteriors conceal intimate living areas, centred on a fireplace, and while the southern elevation features large windows, those to the south are small in response to the harsh winters.
Conceived as a series of coloured steel monocoque coils, configurations can be changed to suit the needs of residents. Whether a single-storey long and extruded box, a two-storey cantilevered structure, a wrap around family model or arranged in a Y-shaped format, there's a sense of individuality. The rings eliminate the need for a separate frame. Walls, floors and roof act together as the structure and because the interior is free of columns, internal rooms can be easily reconfigured.