Location
York, North Yorkshire, England
Date
2015 - 2022
Client
English Heritage
HBA Team
Hugh Broughton, Shane McCamley, Imogen Softley Pierce, David Roberts, Emma Watson
Collaborators
Martin Ashley Architects (Conservation Architect)
Ramboll (Structural Engineer)
Preston Barber (Services Engineer)
RNJ Partnership (Cost Consultant)
Drinkall Dean (Interpretation Designer)
Our work for English Heritage at Clifford's Tower, in the centre of York, demonstrates our skills in designing technically challenging and appropriate interventions within the context of a Scheduled Ancient Monument, improving access and visitor facilities whilst fostering better interpretation of the site and Monument's history.
Following a design competition, Hugh Broughton Architects, working with conservation specialists Martin Ashley Architects, were selected to repair historic fabric and create enhanced visitor facilities at Clifford's Tower. The brief required an 'inspiring and sensitively designed new structure within the historic monument' with improvements to access, interpretation and facilities for visitors and staff.
Clifford's Tower, standing on a tall earthen mound, is the largest surviving structure from the medieval royal castle of York. The stone tower was built in the mid-13th century, but has stood as a roofless ruin since a fire in 1684. The Tower sits next to three Grade 1 listed buildings grouped around the Eye of York. One of English Heritage's most visited buildings, the tower is an evocative survival from the medieval castle and offers superb views over the city from its wall-walk, but its current facilities are poor, and visitors often describe their experience as 'underwhelming'.
To address the shortfalls in experience and facilities, a timber structure will be installed to partially cover the ruin and provide fantastic viewing and activity space at roof level. Suspended metal walkways will give access to previously unseen features at first floor level, enhance access to the roof and help celebrate the ruin. The structure of the intervention will rest on a raft foundation, which spreads load without impact on archaeology within the tower.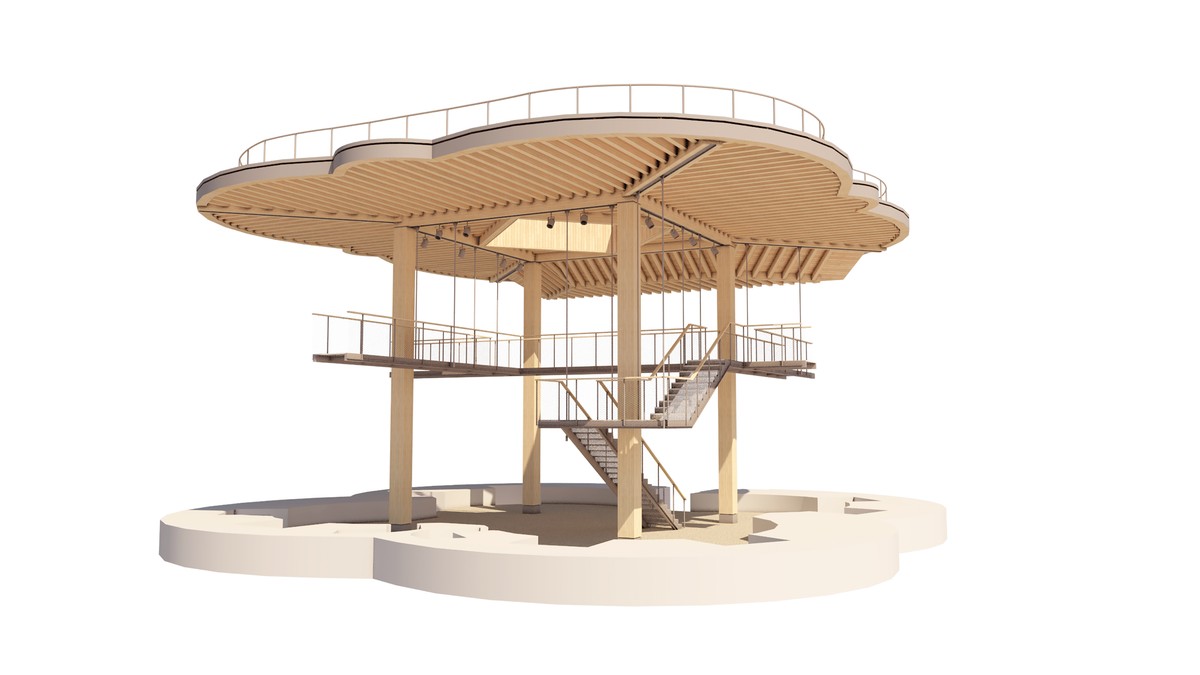 CGI view of the timber structure within the Tower
A need for improved access into the Tower was recognised, as the existing stairs up the motte are steep and have no intermediate landings or stopping points. Several access options were explored in consultation with stakeholders, specialist consultants and members of the public, leading to the adopted strategy to improve the existing stairs by introducing additional handrails and three resting points to the sides.
The design has been developed in consultation with multiple stakeholders both within English Heritage and Historic England and in the wider city community including the Museums Heritage Trust, York Civic Trust, City Council and the Conservation Area Advisory Panel.