Location
Edinburgh of the Seven Seas, Tristan da Cunha
Date
2015 – 2017
Client
Tristan da Cunha Government
HBA Team
Hugh Broughton, Adam Hill, Gianluca Rendina
Collaborators
Galliford Try (Main Contractor)
Top Housing
(Multidisciplinary Engineer and Prefabrication)

Photography
Mark Aimson (Galliford Try)
Hugh Broughton Architects, Galliford Try and Top Housing from Malmö (Sweden) were appointed to design and construct the new health facility on Tristan da Cunha, the world's most remote inhabited island, in the South Atlantic. The facility replaces the existing hospital, which had reached the end of its useful life. The team were selected following a competitive process. The project draws upon their combined experience gained from producing prefabricated buildings in other isolated locations throughout the South Atlantic and in Antarctica.
The layout has been carefully arranged to maximise views and provide areas at its heart, which are filled with natural light. The building was prefabricated in a flat pack format to reduce erection time on site within the logistical limitations. Foundations are formed with precast concrete pads, which support a galvanised steel grillage, providing good resistance to seismic action.
The building has an asymmetric pitched roof to allow for the simple inclusion of rooflights over the waiting area and family / multi-functional space, maximising daylight from northerly sun to these rooms.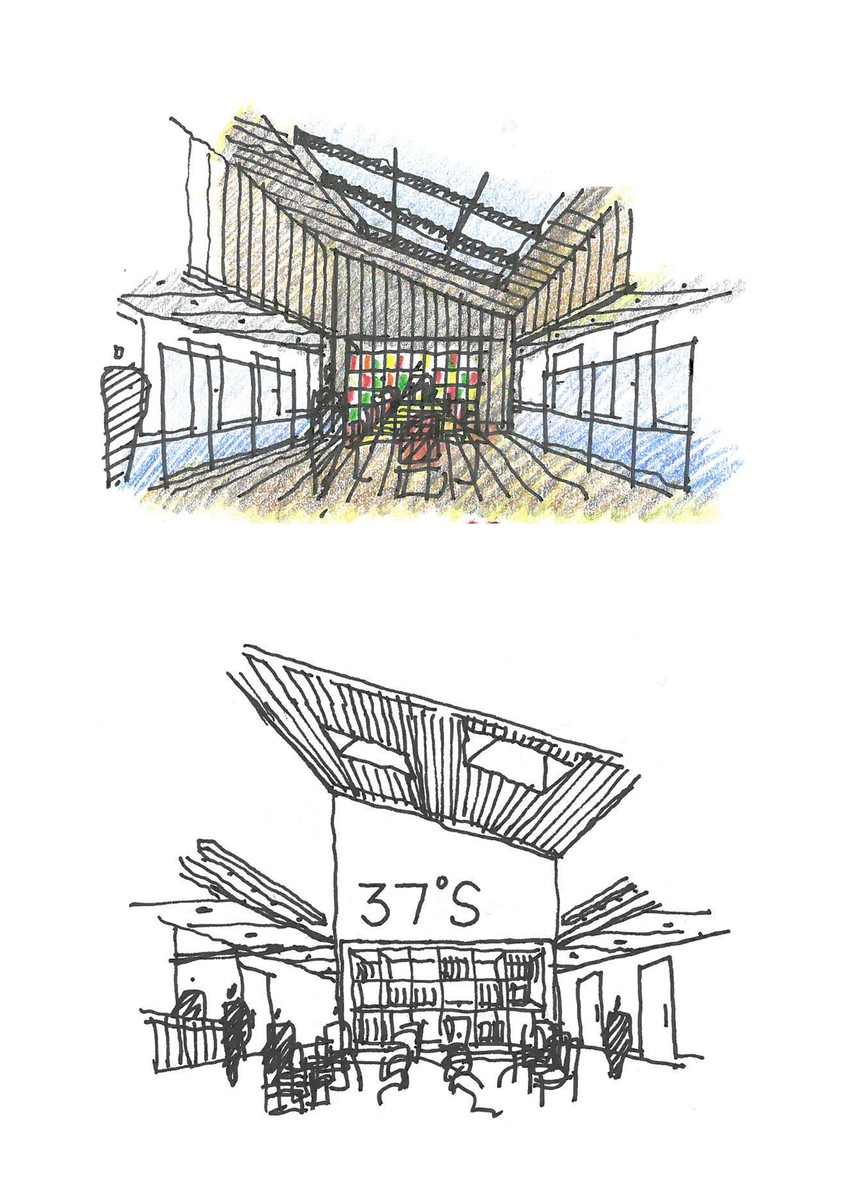 Concept sketches for the family room (above) and the waiting area (below)
External materials were selected for low maintenance and durability to suit the marine environment. Elevations are clad with treated vertical fixed Siberian larch boards. The pitched roof is clad with mill finish aluminium. The building is very well insulated and sealed. Triple glazed windows maximise natural lighting and make the most of views from the site. Rooms which are in regular use face the sea.
The waiting area and a family area are lit by rooflights above and create bright spaces at the heart of the building. The interior is designed for ease of maintenance and practicality and makes best use of natural light to create a welcoming atmosphere and a building which will be a pleasure to use.
The new health facility was handed over to the island's Administration in June 2017.