Location
Battersea, London, England
Date
2015 – 2016
Client
Thomas's London Day Schools
HBA Team
Hugh Broughton, Robert Gillan, Adam Knight, Jessica Knight, Joan Lin, Felix Mara
Collaborators
Studio Webb Architects (Executive Architect)
Elliott Wood Partnership
(Structural Engineer)
Harley Haddow (Services Engineer)
Cumming (Cost Consultant)
Adrienne Hill (Planning Consultant)
ARJ Construction (Main Contractor)

Photography
ARJ Construction
Thomas's London Day Schools is a group of four independent co-educational preparatory schools in Battersea, Clapham, Fulham and Kensington. Thomas's Battersea has approximately 540 pupils, ranging from reception to year eight. The school occupies a Grade II listed building, the former Sir Walter St John Grammar School, founded in 1700. The school was extended by the celebrated Victorian architect William Butterfield in 1859 with further extensions by Tennyson in 1913 and Denny in 1937. The Lower School block was built in 1964.
The layout of the school responded to the piece meal development. The Middle School were isolated from the Lower and Upper School and housed in a series of small class rooms; there were insufficient SEN facilities; classroom adjacencies required reorganisation; catering facilities were poor with children dining in the gym; circulation space required improvements and Lower School classrooms needed refurbishment.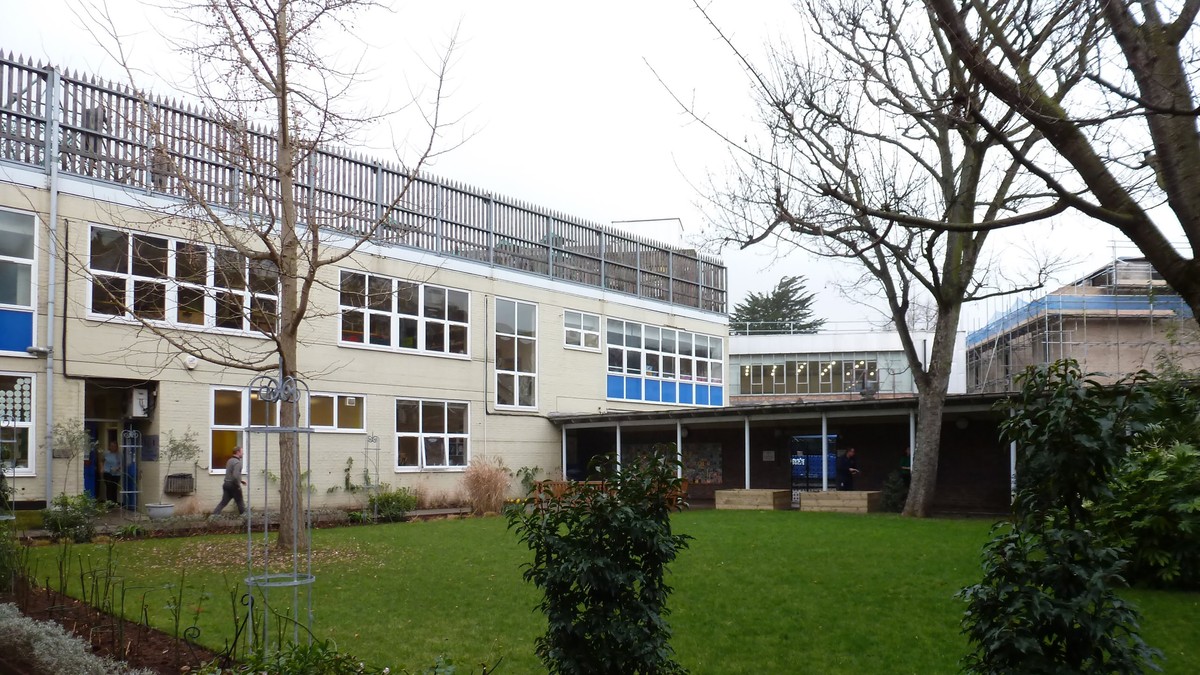 View of the existing courtyard
Following the successful completion of the library at Thomas's Clapham, we were invited to prepare a masterplan to enable the Battersea school to optimise the potential of its campus. This demanded a detailed understanding of how the school operates, the educational ambitions, the existing buildings and the amount of construction work that could be achieved during a single academic year, while the school remained in operation.
Our designs proposed refurbishment and extension of the 60s Lower School Block creating six new classrooms on the roof to house the Middle School and also provided a new dining hall, new support teaching and staff accommodation, better changing facilities, an improved play area and new art school in the place of the relocated Middle School classrooms.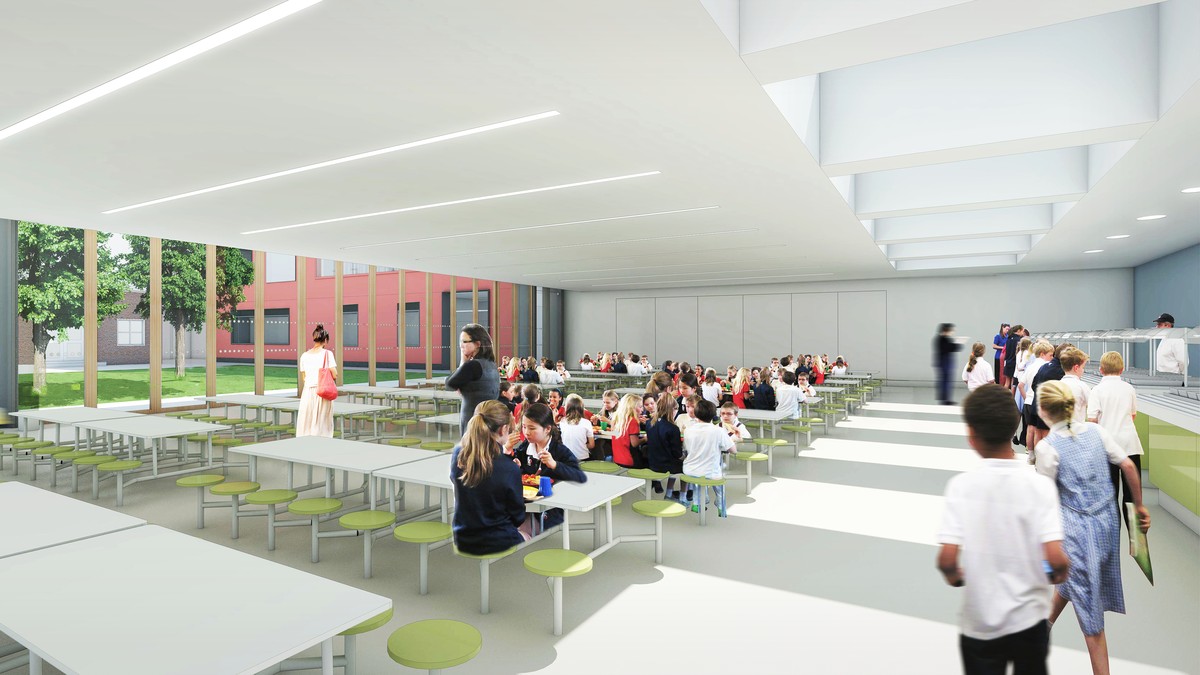 CGI view of the proposed dining hall
A new open plan dining hall has been inserted between the 60s block and the older parts of the school, completing the enclosure of a courtyard garden. The building has a green roof and a fully glazed elevation overlooking the garden.
The 60s Lower School block was fully refurbished and extended to provide lower and middle school classrooms, collaborative teaching areas, changing rooms and SEN teaching space. The building also has a green roof. It was rendered and new glazing was installed to improve thermal performance and create a more contemporary appearance. A roof extension on the listed school building at the front of the site provided a new art room. Externally the playground was covered in astroturf and new play facilities were created outside the Reception classrooms at ground level.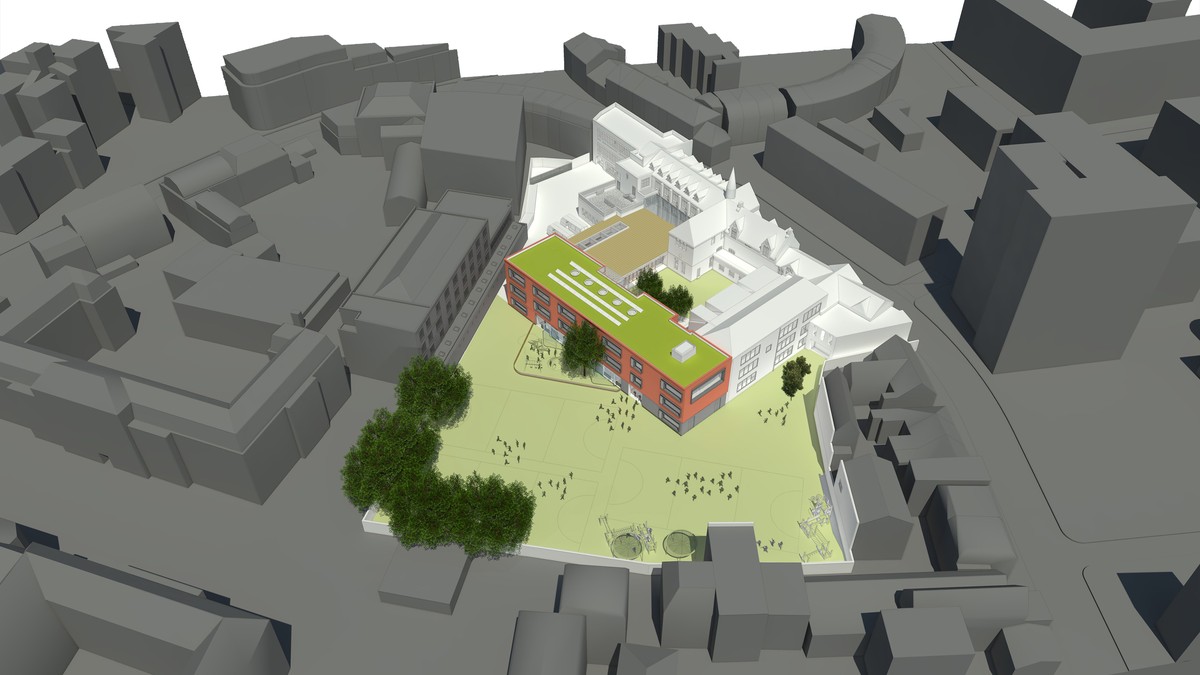 Aerial CGI showing the Lower School Block and external play facilities
Planning permission was granted in 2016. The school's executive architects, Studio Webb, managed detail design and contract administration and achieved an exemplary quality for the project. The revitalised school was opened in time for the new academic year in September 2017. The project transforms the teaching environment at Thomas's Battersea and enhances the learning experience for generations to come.