Location
Lincoln's Inn Fields, London, England
Date
2009 – 2010
Client
The Royal College of Surgeons of England
HBA Team
Hugh Broughton, Grenville Herrald, Adam Knight, Harriet Redman
Collaborators
Ian Fellingham Associates
(Services Engineer)
Boydengroup LLP (Cost Consultant)
Scott Osborn (Main Contractor)

Photography
Matt Chisnall
The Royal College of Surgeons headquarters, in central London, was completed to designs by Sir Charles Barry in 1835 and is Grade 2* listed. Like many central London historic buildings the College has, over the last 50 years, seen both major reconstruction and several extensions completed following extensive bomb damage during the Second World War.
Following a competitive interview process, Hugh Broughton Architects were appointed to develop a comprehensive scheme for the first floor of the building, including reorganisation and renovation of the Library and Information Services, the relocation of the Wellcome Museum of Human Anatomy and the upgrade of ancillary visitor facilities.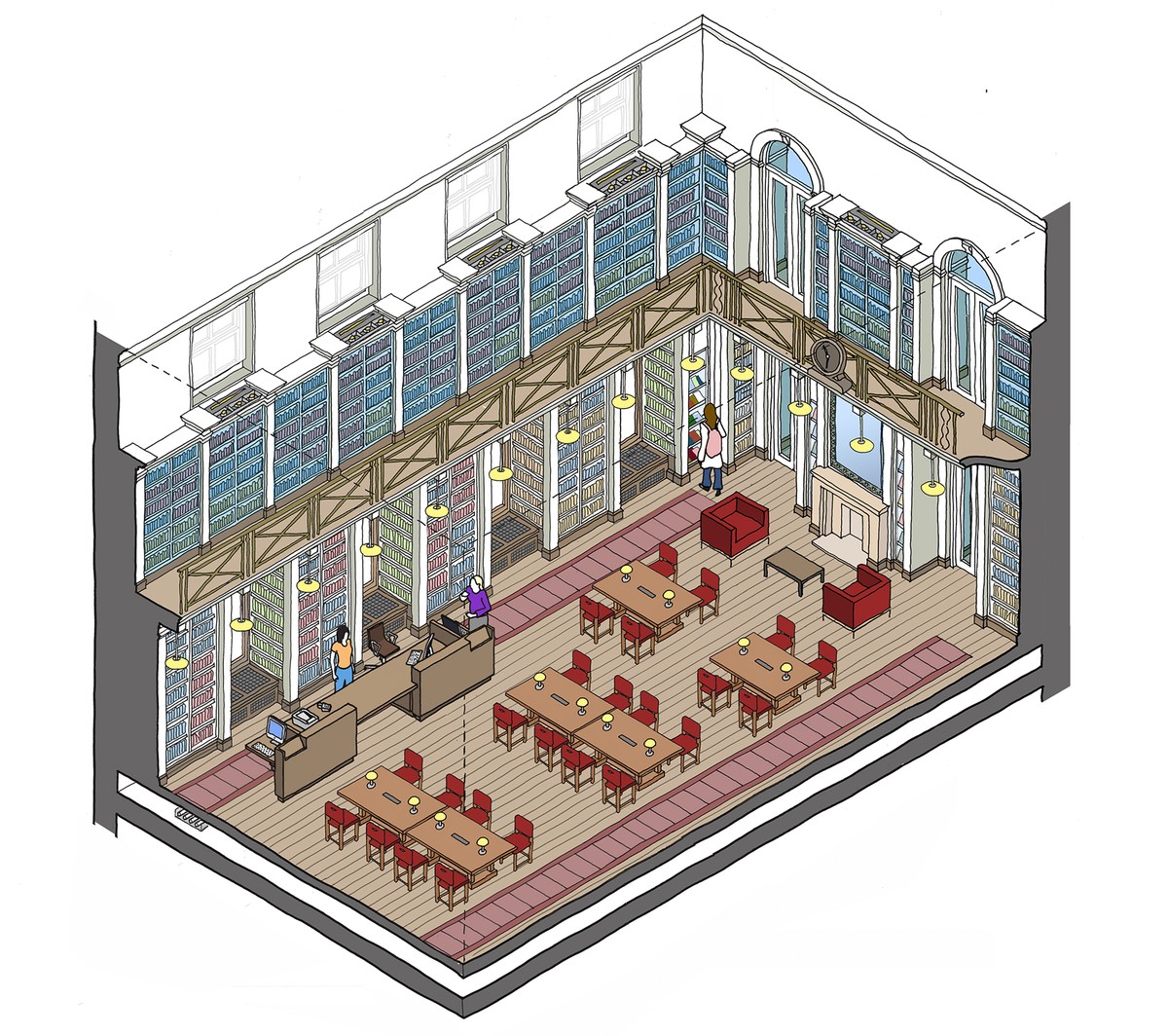 Library sketch proposal
The library largely escaped damage in the war, although the gentlemanly character of the space has been eroded over time. The refurbishment proposals include the reinstatement of original finishes and the integration of a series of environmental and operational upgrades, bringing the space into the 21st century. Features include air conditioning, fibre optic lighting, new bespoke furniture, glass fronts to bookcases and reinstatement of the timber floor. A new rare books gallery allows public display of the College's unparalleled collection of medical literature within a close controlled environment.
Elsewhere on the first floor new offices are created for library staff, a new break out space-cum-public café has been introduced and toilets are upgraded. The relocated Wellcome Museum will incorporate display, study and presentation space over two floors, bringing all teaching resources into one area within the building.
In January 2010 we were commissioned to re-design the reception area to the College to create a more modern, welcoming space appropriate to a 21st century institution. The project was completed in September 2010, following a fast track contract, completed during the quiet summer period.