Location
Pullborough, West Sussex, England
Date
2008 – 2010
Client
Nyetimber Vineyard
HBA Team
Hugh Broughton, Adam Knight, Lemma Redda, Phil Wells
Collaborators
SKM (Multidisciplinary Engineer)
SNC Lavalin Agro
(Specialist Agricultural Consultants)
Boyden and Company (Cost Consultant)
Buro Four (Project Manager)
ARC (CGI Visuals)

This highly sustainable, low carbon 11,000 sqm building has been designed to efficiently produce 1 million bottles of wine per annum for Nyetimber, who pioneered the production of sparkling wine in the UK. Presses, settling, fermentation and blending tanks are placed in a dramatic hall composed of three 35m spanning timber clad double-curved roof bays, creating a striking building to reflect the unique identity of the brand.
Nyetimber's wines regularly beat champagnes in blind tastings and since 2005 the Vineyard has embarked on a rapid expansion program to keep up with the ever-increasing demand for their wines. From an original 35 acres, producing 50,000 bottles a year, the estate has now grown to 300 acres under vine.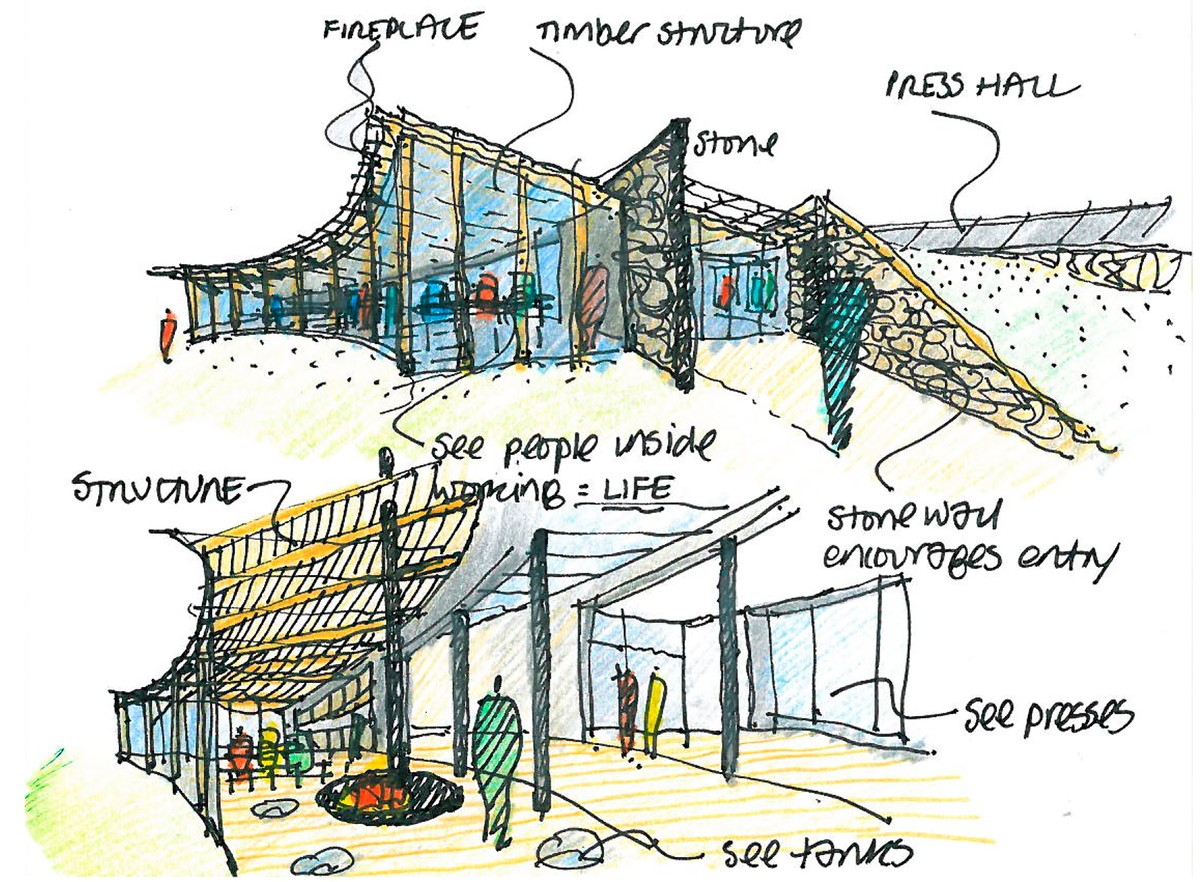 Concept sketches
In our designs the grape receiving yard and the presses are located on a mezzanine 6 metres above the tank hall to allow juice to fall into settling tanks under gravity, maximizing quality of the end product. Within the striking production hall, visitors can view the tanks from an elevated walkway, which ends in a dramatic glass tasting pod.
Storage and finishing areas are housed in a simple steel framed area which maximises flexibility of layout and minimizes cost while ensuring appropriate environmental conditions for storing, disgorging and packing of the wine. The design has been developed to allow easy expansion of the winery without disruption to production processes.