Location
Chicago, Illinois, USA
Date
2014
Client
The Lucas Cultural Arts Museum
HBA Team
Hugh Broughton, Claudia Rath, Gianluca Rendina
Collaborators
7-t (CGI Visuals)
Our design provides a place for people to gather and immerse themselves in the art of storytelling. It is a project where nature is adapted to human need, with daylight, fresh air and landscape coursing through the space. The museum provides a tableau for each and every visitor to draw upon the creativity of generations of illustrators to liberate their own imaginations.
It is set within parkland and raised on a landscaped plinth to maximize visibility when seen from the surrounding parkland and from downtown. The aerodynamic form of the building is sculpted by the winds of Chicago. The façade reveals a dramatic interior of sweeping forms and protects the raised ground floor from wind, cold and excess sunshine. The ground floor foyer soars above visitors, the scale intimating the breadth and quality of Lucas' collections. Trees and planting bring the park into the building, reinforcing connections with nature and creating a pleasant winter garden. The space will be free to enter; creating a public forum animated by digital arts and large scale sculptures.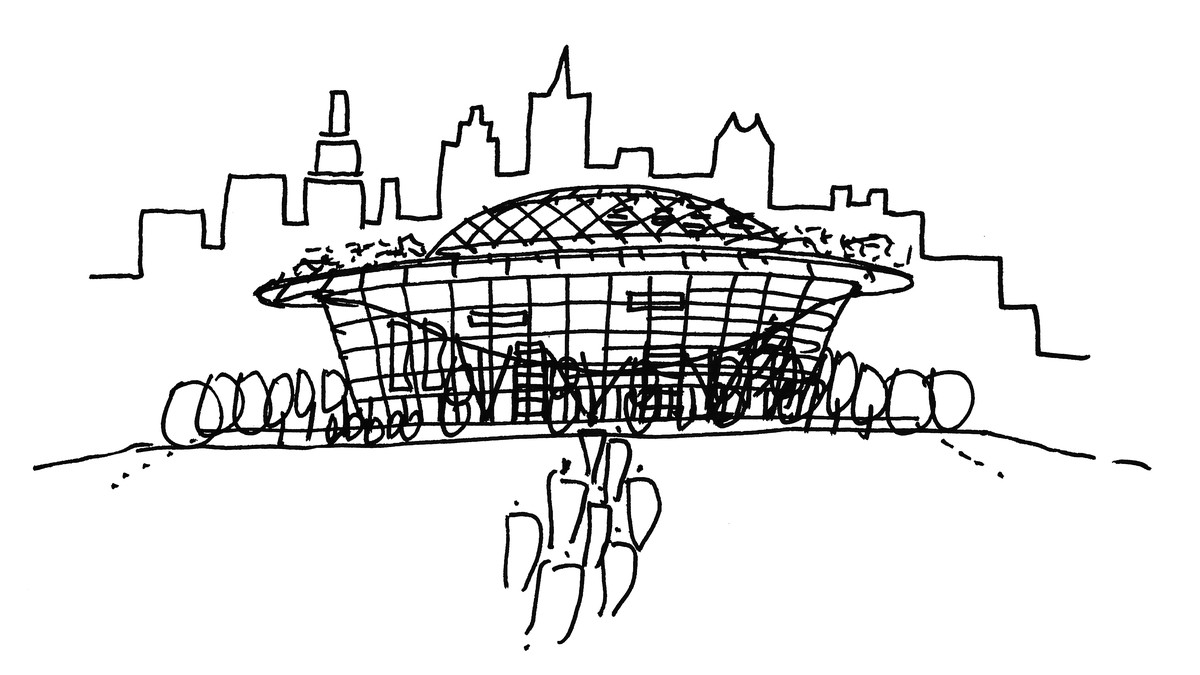 Concept sketch
The raised plinth contains the operational heart of the museum including education spaces, administrative offices, technical areas and plant rooms. From the public foyer visitors descend down escalators to a light filled double height drum containing welcome spaces, retail and café areas.The galleries seem to hover over the foyer, supported on gymnastic columns and connected by glass cores containing lifts, stairs and building services.
Gallery spaces are housed within a spherical form containing three climate controlled floors of display space arranged around a conical atrium. On the upper level the galleries are arranged under a 300-feet diameter domed roof with an exposed diagrid structure. The roof incorporates photovoltaic panels and louvred glazing. A landscaped deck provides spectacular views of the lake and the city.
Visitors circulate between floors on a ramp, which encircles the atrium, bringing life and vibrancy to the heart of the museum. There is no defined route – the museum is a place of discovery, which allows stories to be told and interpreted through the many media of the visual arts. Film and lecture spaces are integrated into the visitor route. At the end of the visit people theatrically descend from the conical atrium in a giant glass bubble hydraulic lift.
The Ark of Chicago will be a beacon of sustainability packed with both active and passive measures to minimize carbon footprint. Throughout the project, innovation and creativity will be woven together to create a cultural destination of global significance, which places art and people at center stage of an extraordinary story.