Location
Bristol, England ...and Mars
Date
2019-2022
Collaborators
Ella Good & Nicki Kent (Artist)
M Shed (Museum Partner)
Edward Marshall Trust (Major Funding Partner)
Hugh Broughton Architects / Pearce Plus (Architects)
Buro Happold (Structural Engineers)
Hydrock (M&E Engineers)
MDA Consulting (Quantity Surveyor)
Prof Lucy Berthoud / Dr Robert Myhill (Academic Partners)
Inflate (Inflatable Specialists)
Phil Sadler (Hydroponics)

'Building A Martian House' is a public art project by artists Ella Good & Nicki Kent, working in collaboration with Hugh Broughton Architects and Pearce Plus. It is presented in partnership with the M Shed, Bristol and funded by the Edward Marshall Trust. It brings to life a full scale Martian House that has been designed through a collaborative process between artists, scientists, architects, engineers and the public.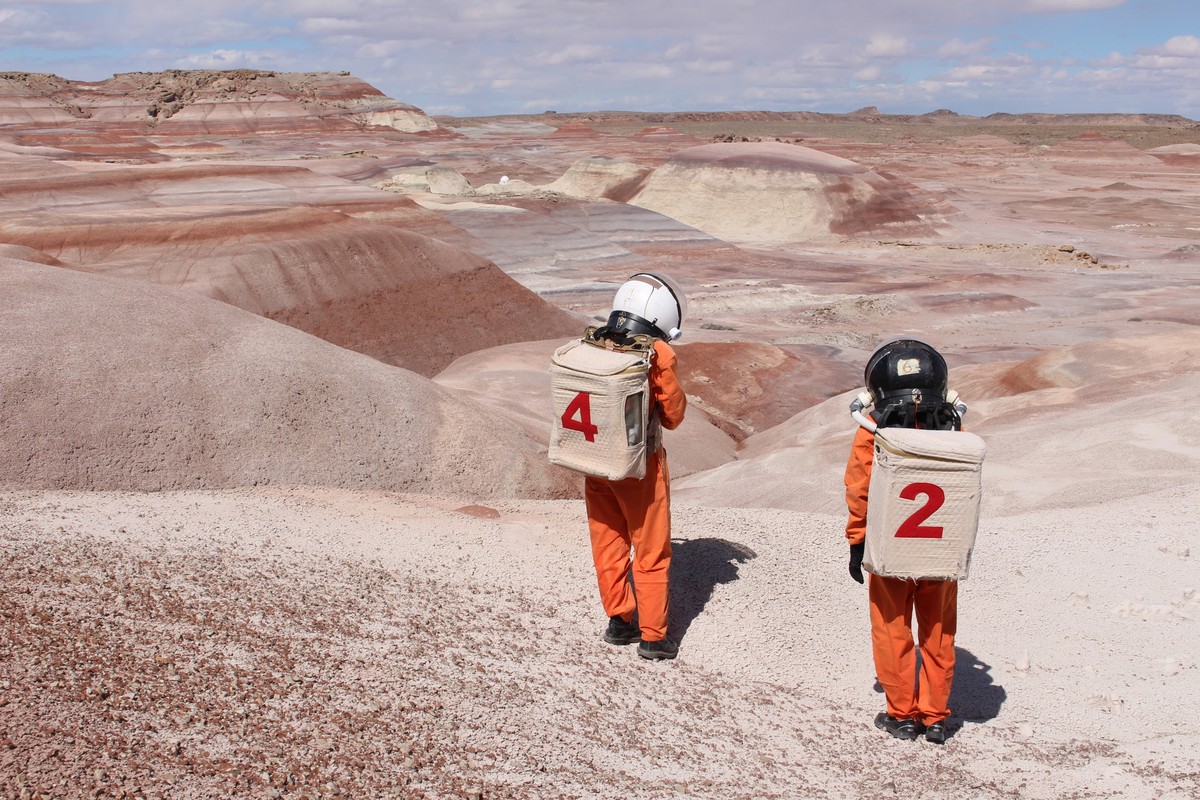 Ella Good and Nicki Kent at the Mars Desert Research Station in Utah
The installation is accompanied by a public program of workshops and talks about sustainability, community, the future, as well as the opportunity for the public to go inside the house. The house also provides a space for small research groups to work collaboratively on projects that can help us rethink life on Earth by exploring the challenges of a future life on Mars, discussing topics such as shortage of resources, circular economies, self-sustaining food production and ways to reduce waste.
The two-storey 53sqm house is powered by solar panels and designed to be lightweight and withstand the environmental challenges that would be faced on Mars - such as average temperatures of -63 degree Centigrade and exposure to galactic and cosmic radiation. The upper level is designed to sit on the Martian landscape and is formed using a pressurised inflatable gold-coated foil, making it lightweight enough to be transported to Mars. In Bristol the foil is filled with air so it can be reused, but on Mars it would be filled with Martian concrete made of regolith (soil) and the water found below the surface, to provide protection from galactic and solar radiation. The house has a glazed elevation, with views towards Bristol's Princes Wharf standing in for the Martian landscape. Inside, a hydroponic living room is designed to surround occupants with plants to aid relaxation. This will feed into a circular waste water system linking the plants with the ablutions and kitchen water systems.
The lower level would be built underground within the lava tubes that exist beneath the planetary surface. As Mars has a thin atmosphere this will protect the inhabitants from high levels of radiation. The prototype in Bristol is enclosed in plywood painted red and printed with information about the project and illustrations from artist Andy Council, who also documented the workshop process which determined the design.
This level contains the environmental control room with all the life support systems powering the house, two compact bedroom 'pods'; along with a shower and a 'Martian loo' with low water use. The interior design will be developed with a group of volunteers and will come to life over the lifespan of the project; everything from furniture to the smaller essentials of everyday living like Martian clothes, toothbrush and wallpaper, with a focus on creating items that are easy to repair, are multi-functional and contribute zero waste.
'Building a Martian House' achieved planning consent from Bristol City Council in October 2020 – the first Martian House to be consented by a local authority on Earth. Now that it is installed beside Bristol's M Shed, 'Building a Martian House' will be accompanied by a four-month public programme of workshops, events and research that will influence the interiors of the house, which begins as a shell. It will also coincide with 'Think Global: Act Bristol', an M Shed exhibition that aims to foster positive action to address the climate and ecological crises.