An Antarctic collaboration
Published in Architecture New Zealand, 14 November 2018
New Zealand's research station at Scott Base, established by Sir Edmund Hillary in 1957, is nearing the end of its functional life and requires a "modern, low-impact, efficient base" to support the future needs of the country's scientists and strategic interests in a better way. British firm Hugh Broughton Architects (HBA) and New Zealand practice Jasmax are currently working on proposals for its redevelopment. Justine Harvey interviewed HBA's Hugh Broughton and Stephen Middleton from Jasmax about designing in Antarctica and working in one of the most collaborative design teams imaginable.
HBA and Jasmax are two parts of a collaborative design team working on the redevelopment of Scott Base; the team also includes civil and structural engineers WSP Opus, building services engineers Steensen Varming and cost consultants Turner & Townsend. The team is currently working on four concept designs, based on user requirements, 'lessons learnt' from the experiences of other national Antarctic programmes and a number of site visits to the icy continent. Antarctica New Zealand will present several options to the Government in December and an announcement of the final design will be made in May 2019.
British architect Hugh Broughton brings some serious pedigree to the team. He is probably the world's leading designer of research facilities in the polar regions, having designed the British station Halley VI, the world's first fully relocatable polar research station, along with Juan Carlos 1, the Spanish Antarctic Base, which was completed in 2016 and is a radial modular design that utilises renewable energy. Both projects seem to pay homage to Archigram's futuristic 'Walking City' (1964) in which intelligent buildings in the form of huge, self-contained living pods roam the city. Equally interesting is that Broughton has also worked with NASA's Behavioral Health and Performance Team at Johnson Space Center Houston on a project that is helping to establish the acceptable net habitable volume for future long-duration, exploration-class space missions.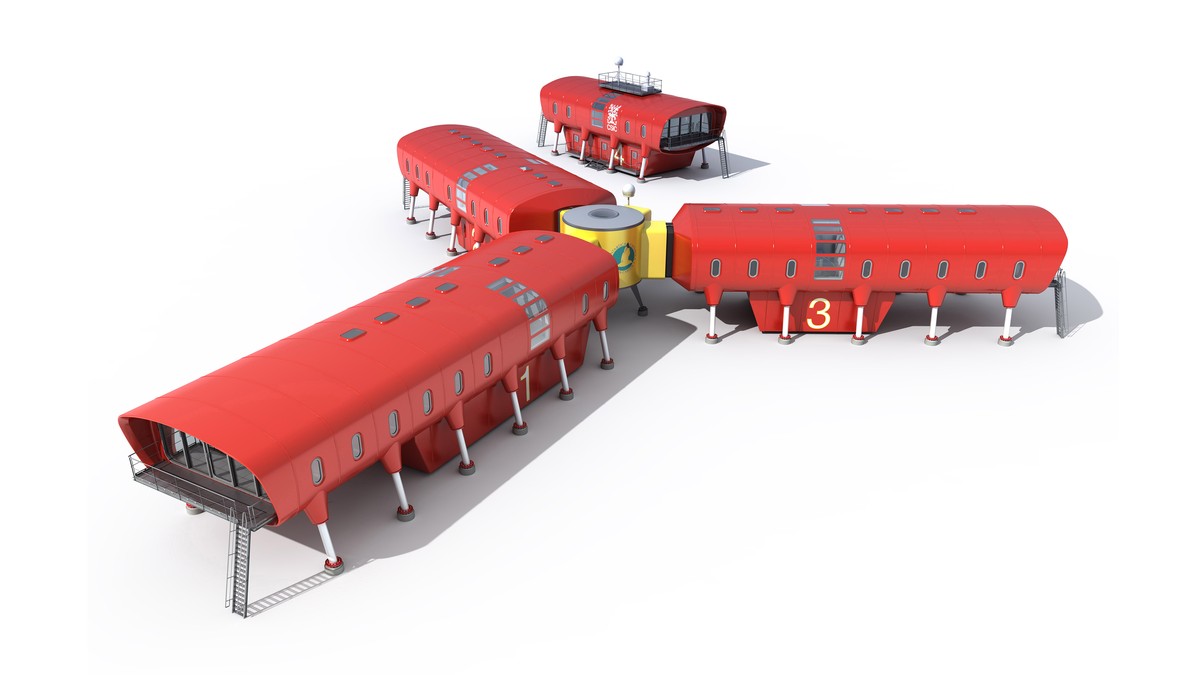 Juan Carlos 1 Spanish Antarctic Base
Working alongside Broughton's design team is local firm Jasmax, led by Euan McKellar and Stephen Middleton, who bring their considerable knowledge of designing and delivering complex education and health-care facilities, as well as experience in collaborating with international architects on large, and often high-profile, schemes.
Justine Harvey: So, what is your new design for Scott Base?
Stephen Middleton: It's common knowledge that the project is happening, that we've been to Antarctica and we're a team, but there is not a lot of detail about what we're actually doing.
Hugh Broughton: The business case is being prepared for the 2019 budget but, until that's determined, it would be inappropriate to reveal a design because it might not hit that budget. But it will be revealed in May and it's going to be a long-running project.
The architecture of Antarctica is a developing field, starting from when the Americans redeveloped South Pole Station at the start of the century with the scheme designed by Ferraro Choi. Since then, there has been a transformation in the way people approach designing buildings in the Antarctic. They tended to be purely pragmatic up until that point.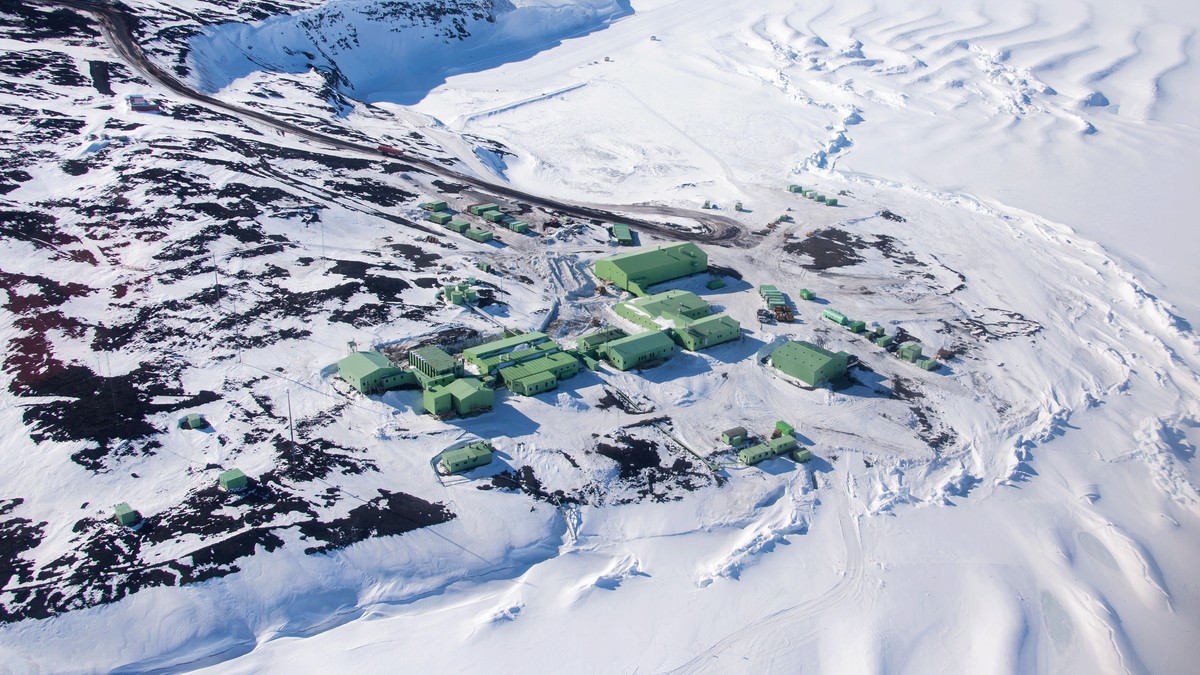 Existing Scott Base
And why is that?
Hugh: I think people have started to involve architects because they have realised that crews are going to be living there for longer periods and we have a changed attitude towards well-being that didn't exist from the 1950s through to the turn of the century. That was propagated as much by the scientists as by the parent organisations. The scientists were also in favour of a life where they were living in tents, where hardship was seen as one of the attractions of the job. It was a male-dominated pursuit. But the organisations realised this wasn't necessarily delivering the best science. Scientists come in all shapes and sizes so, in order to get the best scientists, you need an environment that is inspiring and cares for people in terms of their general well-being, health and safety. So, you need more than the engineered solution and that's why architecture started to play a bigger role in these buildings.
Stephen: The longevity and durability of these buildings are important, too.
It must be very expensive to build there and to transport everything to the Antarctic.
Stephen: There is a huge amount of investment and so much is wrapped up in the logistics part. Really, the value in the actual building is relatively small compared to buildings in New Zealand. So, you might as well do the best you can to gain the value out of it because you are investing so much. There's an interesting financial model that goes with this.
Hugh: When one or two nations start making an impact with the buildings they build and you see the benefits they glean from that, then everyone else starts thinking they should be doing that too. Since the South Pole project and the project we did for the British Antarctic Survey, so many of the stations have been the consequences of architectural competitions. Design has become a much bigger part.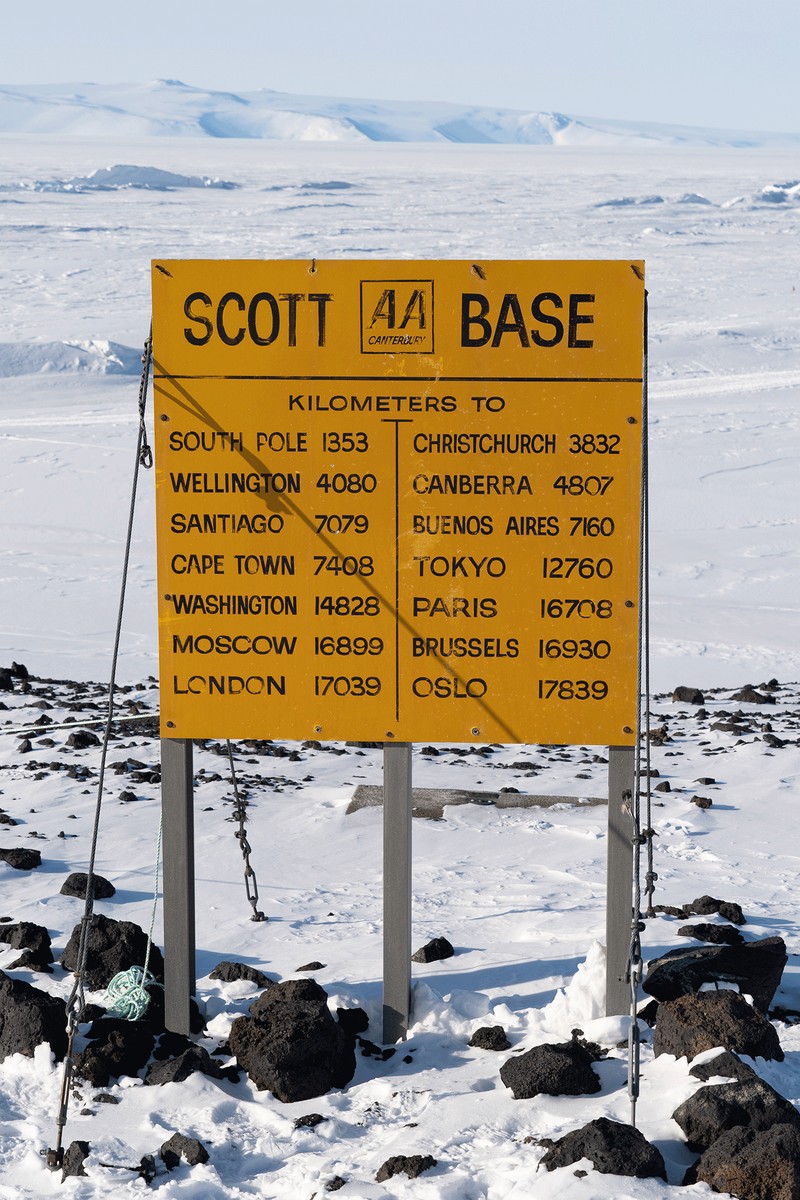 Antarctic Research Stations are very remote
Like the snowball effect!
Hugh: Yes, aha, definitely. And it's for the good because it promotes better living conditions for those who live there and creates more sustainable, environmentally responsive buildings that can be built more quickly and more efficiently. So, there are many benefits to this enhanced design process.
I guess it's a place where it's always been about nation pitted against nation. There's a bit of a legacy thing going on.
Stephen: Yes but, at the same time, it's very collaborative across nations and there's an opportunity to be collaborative around the projects because they have to follow a process through the Antarctic Treaty (1959), which says you have to allow your work to be reviewed. There is a comprehensive environmental evaluation process, like resource consent, at a nation level. You look at each other's schemes and you're able to comment and evaluate.
Hugh: And when the projects are built, there are official visits from other member states and signatories from the Treaty and they are allowed to come and see the new station, warts and all.
Stephen: There are certain rules like: "you cannot deny access to other states". There is a whole bunch of stuff written into the Treaty which means people have to collaborate. The buildings are so specialised and people are trying different ways of doing things: How is that performed and how can that be translated into the process? The American McMurdo Station, which is literally across the hill from Scott Base, is doing a similar thing to what we are doing but at a bigger scale. We are looking at how we can collaborate and learn from them and what the opportunities are.
Hugh: It's a lot more collaborative than it would be in the real world. When we were doing the British station, we had reviews by the French, the Germans and the USA, and some of the advice they gave during the review process led to fundamental changes in the way we were thinking about designing the building. When we finished the British station, we ended up doing a similar thing to help the USA. We went to a three-day workshop in Washington where they presented their scheme and we said, "Have you thought of doing this and have you thought of doing that?"
There is a lot more help moving between the projects than you would see in a more temperate environment. I think that is one of the pleasures of it, the level of collaboration and assistance, because it is one of those environments where you don't want to get it wrong because the impacts could be very severe. So, the more people who check it and give you advice, the better off you are.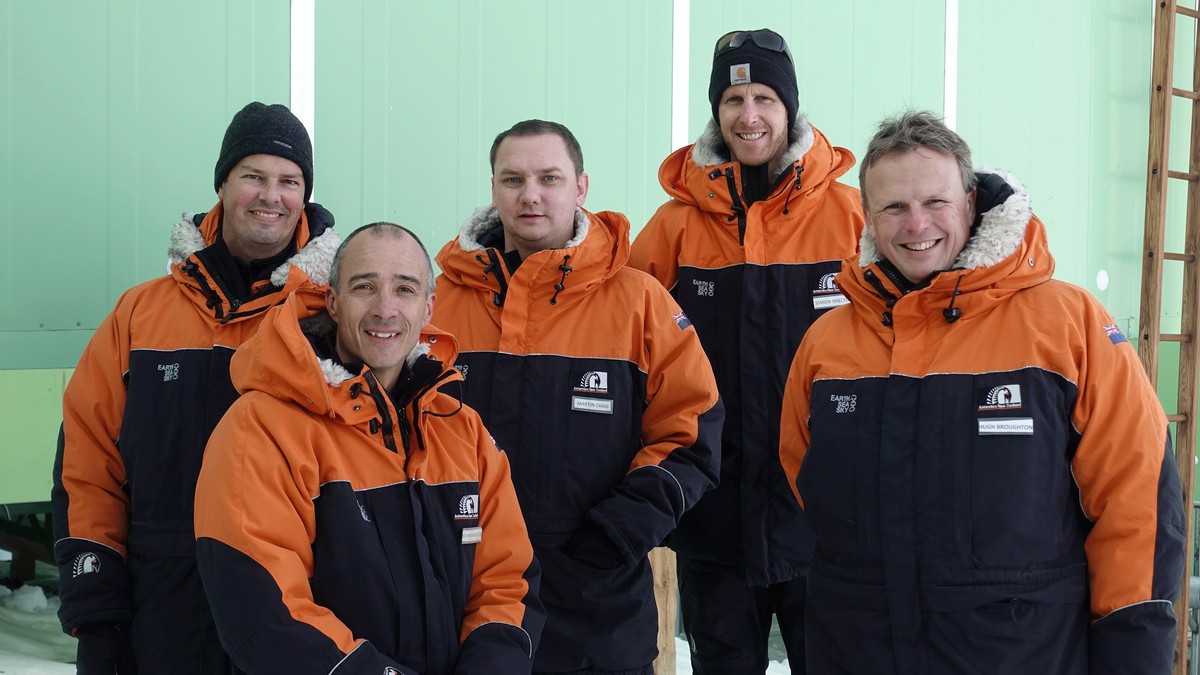 Scott Base design team on site visit
In cities, we try to do that with review groups but it's not always successful. Is there a better collaborative process that could be incorporated into the planning of our cities?
Stephen: It does need that support from the top, really. That's where the Antarctic Treaty provides a framework to allow you to do what you need to do. It's still early days for us on the project so it will be interesting to see how it maps out. How, when we do get the feedback, does it impact on what we do? With resource consent, it's quite prescriptive.
Hugh: At the Antarctic Treaty meetings, it's all veiled in diplomatic language. It's hard to determine exactly what it means and it's highly unlikely that they will criticise a detail. So, the discussion will be much more general, like talking about an increase in floor area and how that will relate to the improved output of your science. So, it's more about science output and sustainability.
Stephen: The people of Antarctic New Zealand aspire to be the best Antarctic citizens and that's what they achieve. They have a high-level approach to everything they do and they're very good at biosecurity – how do you go out and camp on the ice and not leave a trace?
Hugh: They're phenomenally fastidious, especially in comparison with other operators. That might sound obvious but it's actually hard work to leave barely any trace that you have been there. You think, "What's the point of that on such a vast continent – what difference can a couple of people make on a field trip?" But, if you use it as a starting point, then, when you do something more substantial, you already have that basis.
Stephen: It's everything – you can't even pee on the ice. It all gets bagged up and shipped back.
Hugh, your experience designing Halley VI must have been really valuable – has that helped you work in this capacity at Scott Base?
Hugh: Yes, I think so. There are quite long durations between the projects. In that case, the British Antarctic Survey had a design competition, which was back in 2004/2005 and lasted a year, but, when it was finally opened, it was 2013. Seven years. What was fascinating about the process, aside from all these elements to do with sustainability and collaboration, is the whole mental approach to the design; it is quite different to designing the average building. You don't want to innovate for the sake of it because that's dangerous. You don't want to be putting people in Antarctica in a guinea-pig state because, if it goes wrong, they're in deep trouble. On the other hand, the challenges require innovation, so you end up borrowing innovations from different places. You might have a problem that is not usually addressed by the building trade so you have to find your solutions outside of that.
In this case, we looked to the transportation-oriented sectors so the buildings are like modules on legs and there is movement between them. As an example: to achieve links – to walk from one to the other – we used super-insulated connectors like you find between train carriages.
The lesson from that process was in opening your mind to places where you could find tried-and-tested innovation which leads you to thinking about building envelopes and so on in a different manner. The other thing that's interesting is that you end up designing everything from 'first principles'. You don't use rule of thumb like you might do with other projects. It's a slightly different mind-set.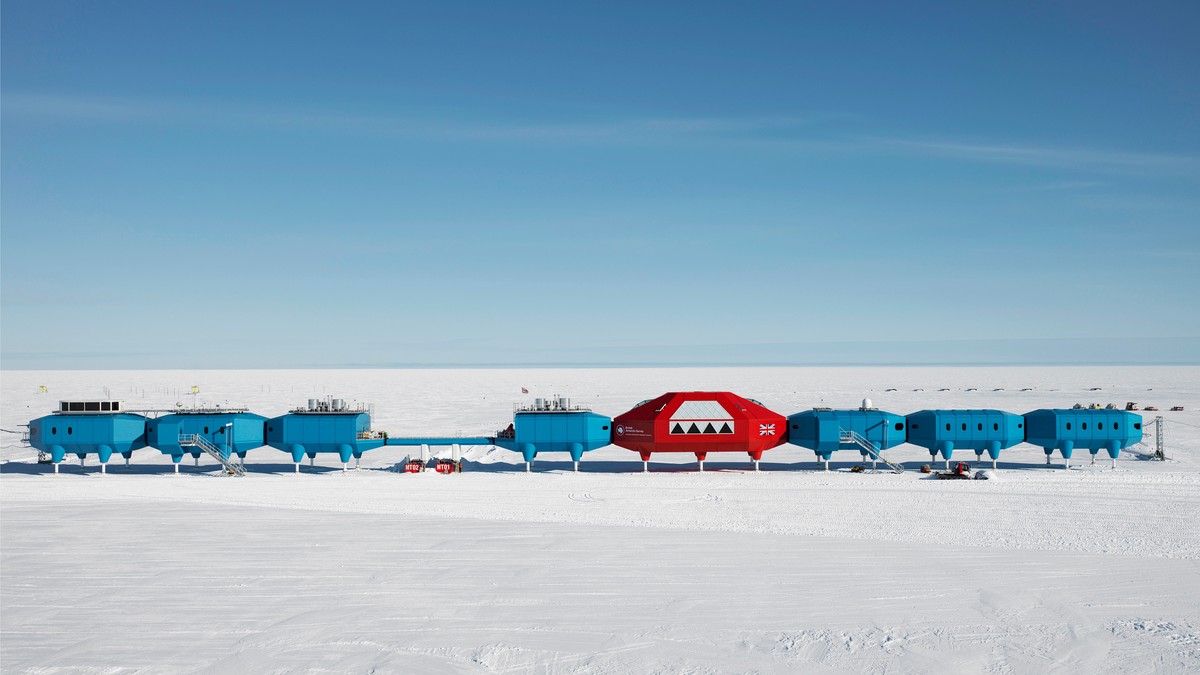 Halley VI Antarctic Research Station
What are a couple of examples?
Hugh: A lot of the conversation is about how wind and snow move around buildings; this is not something one normally thinks about. You have to think about wind when designing a high rise but not the way drifts occur. You can have winds of certain speeds that cause drifts and others that don't. That has a massive impact on how you plan your buildings around the site and the earthworks that are done. Obviously, a lot of thought goes into the building envelope, too.
Stephen: And resilience, of course. You have to be able to weather the storm. If something goes wrong, what do you do?
How long can you be stuck there in terrible weather without anyone coming for you?
Stephen: Well, theoretically, you could be there for a season before anyone comes. The winter season is very long, after all. They basically vacate the base in February and don't come back until October. During that time, there are only about 15 people on base. There will be one winter flight every six weeks – that started recently. If something happens over that period, you can be really isolated.
Hugh: Also, imagine that you can't go outside because there's a massive storm and it has damaged your water production plant; then, you are in serious trouble if there's only one plant. You need back-up sources. So, a lot of work has to go into identifying what elements need the most resilience and what are the contingencies – but without gilding the lily. You don't want to pay twice for the Rolls-Royce as it needs to be maintained as well.
In the winter, there is the core crew but, in the summer, it goes up to 100. The population can be very transient in summer, where people are bidding to do scientific experiments assisted by staff. Once they arrive, they want to get out on the field to do their work as quickly as possible, so you have this constant change of people. It's a very different social dynamic between summer and winter so you need to design spaces that work well for a fluid population. Stephen: Roughly 350 people pass through Scott Base every year.
There must be a lot of design 'givens', like the spatial arrangements.
Hugh: Yes, there is a lot of work looking at the adjacency of spaces, and at operational efficiency and flexibility too. So, you don't have spaces that are used for only a few hours of the week; they have to work for multiple functions. The whole change of population is symptomatic of that because you need to have spaces that can be big and expansive for a lot of people but still feel small and intimate when the group is smaller.
Stephen: When we were in Antarctica in December last year, they were filming the Air New Zealand safety video. They had these flexible spaces for science but, also, they were used for layout space. The crew took over those areas and the camera crew had its equipment laid out.
Hugh: Scott Base is different from a lot of Antarctic research stations because it's a science expeditionary centre, so it's a jumping-off point. People fly in, organise all their expeditionary materials, then they'll go out into the field. At a lot of the other bases, the science is done at the base itself. Although there is long-term monitoring taking place at Scott Base and McMurdo Station close by, the main scientific throughput is from fieldwork – people doing some work before transporting whatever they are researching back to laboratories in New Zealand. So, it needs to be more flexible than are other bases we've worked on, where the same scientists may work there year in, year out, doing experiments that last more than a decade. At Scott Base, it is much more fluid and dynamic.
I've found that you start off thinking that you've learned all the lessons from the other bases and we can truck them out again but, if there was one thing that was made clear on day one, it was not going to be Halley 6.5. We are starting again. It's much more rewarding for that. The other interesting thing about Scott Base is the historical context; there is a long history of endeavour rooted in that area. That's where Scott and Shackleton hit land when they went there and where their base camps were to go to the South Pole. It's where Hillary went when he did the Trans-Antarctic Expedition. There are lessons to be learned there, too, like the coldness of Scott's Discovery Hut, compared with the congeniality of Shackleton's. It's quite striking.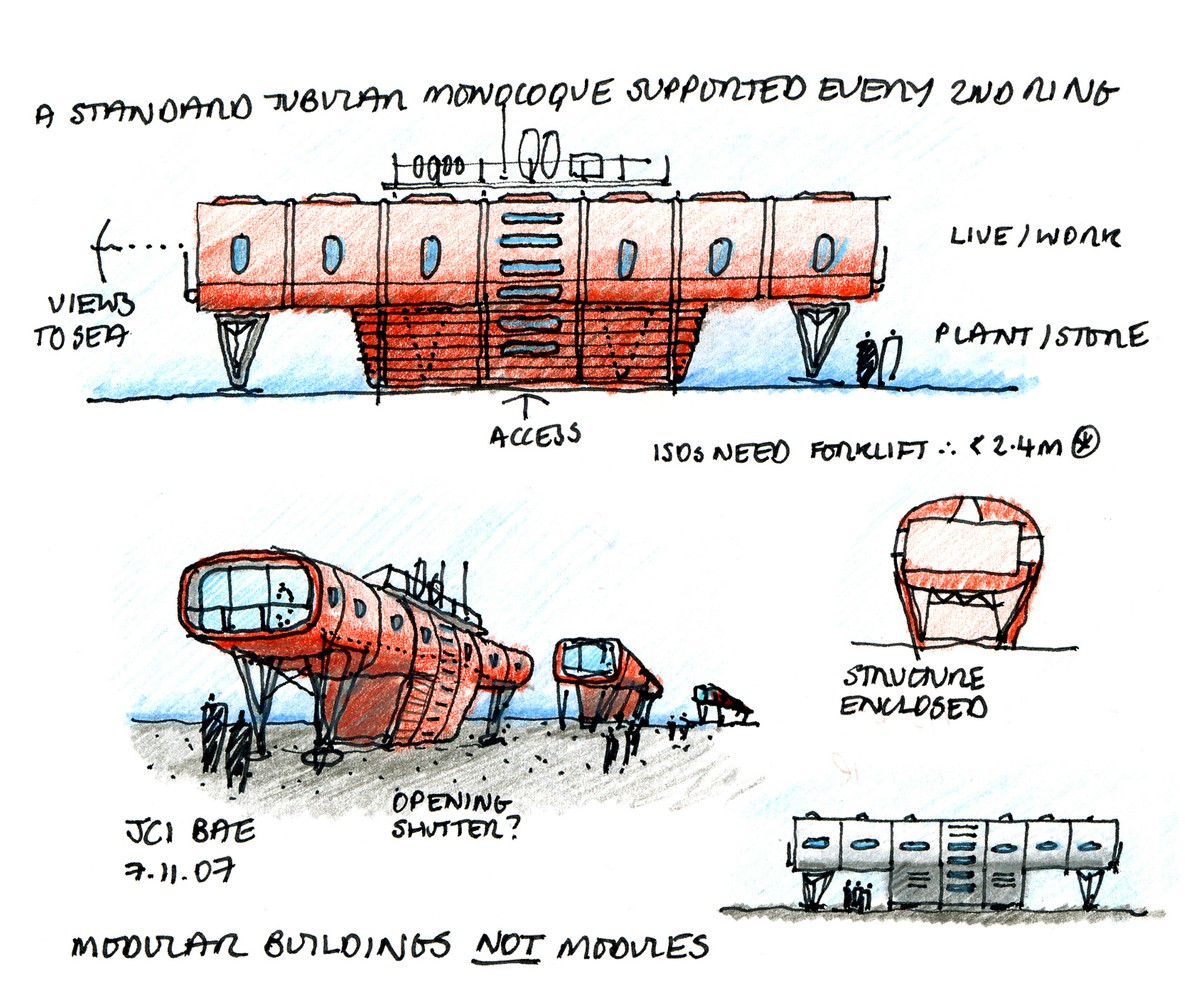 Concept sketch for Juan Carlos 1 Spanish Antarctic Base
What can you say about your design?
Stephen: Not a lot, although the brief is relatively public. Scott Base requires more contingency to cope with field parties coming back in and people not being able to fly back to New Zealand. So, it is to be fit for purpose. It also needs additional space – safe working areas to access critical life support services and plant rooms and so on.
Hugh: The current base is on 11 different levels. Imagine you are carting a cardboard box of tin cans and you have to go up a lot of stairs. So, a lot of our efforts are about enhancing efficiency. Gaining more bang for your buck. More effort on the science. We can't say what the design is but modularity, flexibility and simplicity are our key drivers for developing the design.
The safety element must be a big one, too.
Hugh: Yes, we start every meeting with a safety share – it can be anything you like, "it's winter so make sure you have lights on your bike". In the UK, we don't generally start meetings in that way.
Stephen: Not here either.
Hugh: That is symptomatic of their approach. Antarctica New Zealand is passionate about safety; it's safety, it's safety again and, then, we will start talking about the other bits. And, amidst all that practicality, we are also trying to create something joyful and inspiring that captures the character of New Zealand.
What plans are afoot for more Antarctic research stations? Is it an area that is going to be growing?
Hugh: Most of the significant global earth systems, which dictate issues around climate change, revolve around the poles so, when you are burning tonnes of carbon in China or Auckland or wherever, the impacts are felt most keenly in the polar regions and any changes in the polar regions set up all sorts of currents in the oceans and the atmosphere. If we don't understand how that works, we are holding ourselves hostage to fortune, I guess. There will be more and more science conducted at the poles to reinforce the need for change to combat climate change. We have to remember that this is what it is all about. This is why we are there.
Stephen: Also, there is the preservation of the longitudinal studies that have being going for years. They have a range of studies: one called Chloe, for instance, that samples chlorine in the atmosphere.
Hugh: There is a remote laboratory where they do ozone measurement. That's where the hole in the ozone layer was originally discovered over the Antarctic. These measures give us an eye on what has taken place. The scientists there are seeing the real effects of climate change more than the rest of us are. Climate change is very raw there; you can see it taking place in the melting of ice sheets and the behaviour of animals in the sea on a really significant scale.
How are your two practices collaborating?
Hugh: Our collaboration is different from the model you see in urban planning, which is badged as collaboration but, actually, people are going off and doing their own projects within a master plan. We are not doing it like that. Hopefully, it will be impossible to tell who did what.
Stephen: We're saying: "We're one team and, within our one team, 'How do we best deliver the project? Who has the skills? How do we delegate?'" It's not "you do that bit and we'll do this bit" but it's "what is the best approach to the project?" I think, if you start with that principle, you achieve a whole bunch of things around how you operate. It's massively positive because we can anchor the project to the New Zealand context but Hugh brings all the expertise and a massive amount of enthusiasm, which is important for a project like this because we need that. It's such a public project so that is vital.
Hugh: And it's so first-principle based that people think they won't know how to do that but, actually, we have conversations that two architects would have about what constitutes a nice dining environment and I don't know any more about that than Stephen does, so we work at it together.
Stephen: One of the challenges is working in different time zones but that is also a benefit as we can turn things around quickly. We can work 24 hours a day and that has been beneficial in what we've done to date. We use social media to stay in touch. Everyone is working on the same BIM model and you can share it; it's passed on and comes back better than it was before. Hugh: You have to know each other to be able to make that work. We had to share a bedroom for two weeks in the Antarctic. We had the whole design team in the room together.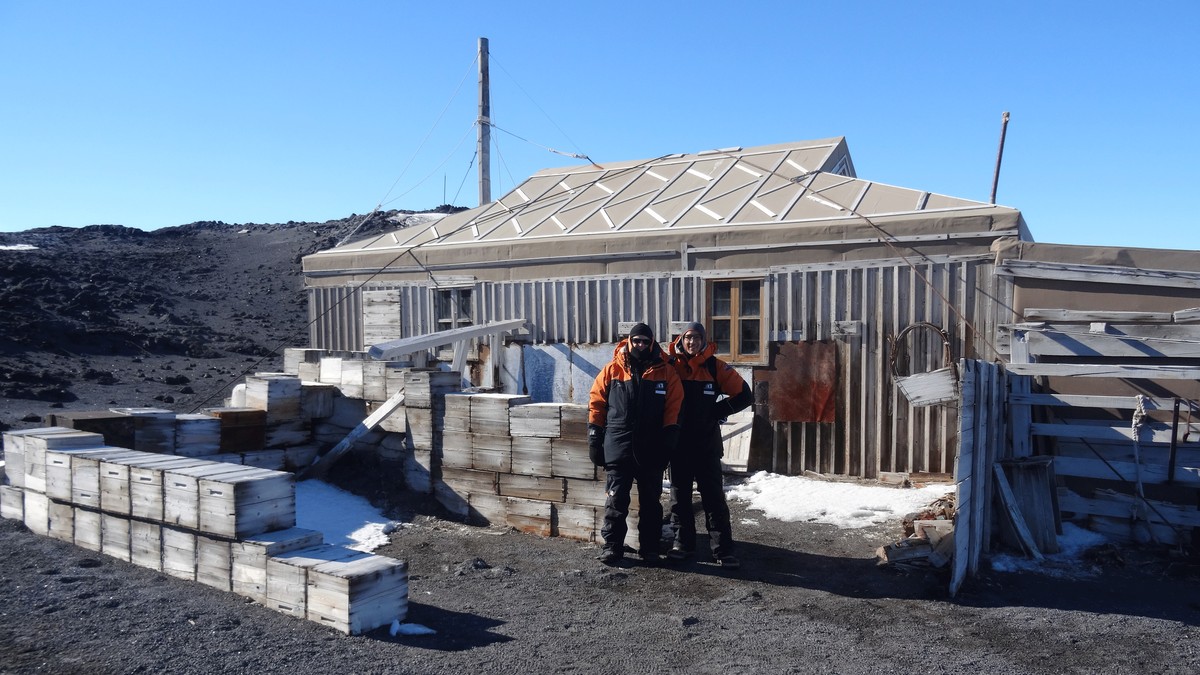 Hugh Broughton and Stephen Middleton at Cape Royds Hut
That would be an interesting way to start any project.
Hugh: On the visit, there was me and Stephen, the structural engineer from WSP Opus and an M&E engineer from Steensen Varming in Sydney. We went on a visit last December and then there was another in February.
Stephen: We don't go to every Antarctic visit. We are cycling the team through, saying: "You need to experience this and know what you are designing".
Hugh: Part of it is to gain knowledge and part of it is to reassure people that it's not as scary as it seems. The project seems forbidding to start with but, really, it's how to do the foundations and the spaces you need for ablution blocks – they are all the same issues that you face when designing any building. Antarctica New Zealand didn't recruit a multidisciplinary team, they recruited architects and, then, the engineers were recruited separately and we were married together. It was very successful as we started off with these two weeks together so we were pretty well bonded by the time we started the project.
To do this, you must have to have a bit of an adventurous spirit.
Stephen: Oh yes.
Hugh: Collaboration is key, along with health and safety, for Antarctica New Zealand. They said, "If we get to the end of the project and we have a beautiful building but everyone has fallen out with each other, then it won't be a success."